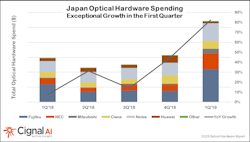 Cignal AI
Japan emerged as an optical network systems hotspot during the first quarter of 2019, according to Cignal AI. The market research firm adds in its most recent "Optical Hardware Report" that China and the Europe/Middle East/Asia (EMEA) markets also showed growth, while the Americas did not.
Optical system sales in Japan surged 82% year-over-year during the first three months of this year. "The exceptional optical market growth in Japan is the story to watch for 2019," commented Scott Wilkinson, lead analyst for optical hardware at Cignal AI. "Network operators have begun significant network rebuilds and expansions, and domestic as well as non-Japanese vendors continue to grow sales in the region at remarkable rates."
Domestic suppliers NEC, Mitsubishi, and Fujitsu benefited the most from the strong quarter, with Ciena and Nokia also showing gains (see graph above).
Elsewhere in Asia, sales in China during the quarter grew year-on-year, but at a pace of only single-digits. Cignal AI noted in a press release announcing the new report that "2018's high spending by Chinese carriers could not continue indefinitely." EMEA also enjoyed a strong quarter, with cloud and colocation services providers pushing metro and long-haul spending upward.
The news wasn't so good in the Americas. In North America, relative sales strength within the cloud and colocation segment wasn't enough to offset declines among traditional telcos, who appear more focused on 5G roll-outs. Sales also remained weak in the Caribbean and Latin America, although Cignal AI reports optimism among vendors that spending will pick up later this year.
Overall, the market researchers said that long-haul spending showed greater growth in the quarter than metro, despite the fact that metro bandwidth is increasing more rapidly.
The "Optical Hardware Report" appears quarterly and includes market share and forecasts for optical transport hardware used in optical networks worldwide. The report covers revenue for metro WDM, long-haul WDM, and submarine (SLTE) equipment in six global regions and includes detailed port shipments by speed. In addition to an interactive Optical Hardware Superdashboard that provides up-to-date market data for real-time visibility into individual vendors' results, the analysis includes an Excel database as well as PDF and PowerPoint summaries.
For related articles, visit the Business Topic Center.
For more information on high-speed transmission systems and suppliers, visit the Lightwave Buyer's Guide.