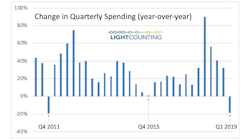 LightCounting
LightCounting notes that spending by cloud services companies in the first quarter of this year dipped sharply after achieving record levels in 2018. The question the market research company explores in its June 2019 "Quarterly Market Update" report is whether the slow start to the year is an aberration or the start of a troubling trend.
As the chart above illustrates, quarterly spending of the top 15 cloud companies since 2011 showed a marked decline in Q4 2011 and weakness in Q4 2015. In both instances, spending immediately rebounded. However, LightCounting points to a few factors that are different this time around. First, in both 4Q11 and 4Q15, the main drag on spending was Google; remove the search engine giant's figures from those two quarters, and the other 14 cloud companies exhibited a 20% to 25% growth in spending. "Not Google" companies weren't as aggressive with their spending in the first quarter of this year. LightCounting estimates that, in addition to a shrinkage in spending at Google, another eight companies spent less during the first three months of the year. Companies in this category include such major players as Alibaba, Apple, Microsoft, and Tencent.
A second concerning factor is the global trade environment, particularly tensions between the U.S. and China. Cloud services providers who count Huawei among their suppliers may delay spending while the Chinese company works through the ramifications of its ban on access to U.S. technology. Meanwhile, LightCounting speculates that the cloud services companies also are wrestling with "expected increasing tax burden, fines for mishandling data and monopolistic practices, and further looming regulation," given that the quarter's spending softness came against a backdrop of an 11% growth in revenue for the Top 15.
Needless to say, continued softness in expenditures among cloud services companies would be bad news for optical transceiver vendors. LightCounting notes that cloud companies represented more than 30% of the global optical transceiver market last year. However, the impact of such a downturn likely will be mitigated for companies with exposure to China, the market research firm theorizes. A slowdown in economic growth in China could the lead the government to fund additional infrastructure projects, including 5G mobile network deployments, that would require optical transceivers.
LightCounting's "Quarterly Market Update" provides coverage of optical transceiver growth trends, including quarter-by-quarter sales data collected via LightCounting's proprietary vendor survey. Performance metrics and commentary for top-tier telecom and internet service providers, network and datacom equipment makers, and optical component and semiconductor vendors are also included.
For related articles, visit the Business Topic Center.
For more information on optical modules and suppliers, visit the Lightwave Buyer's Guide.