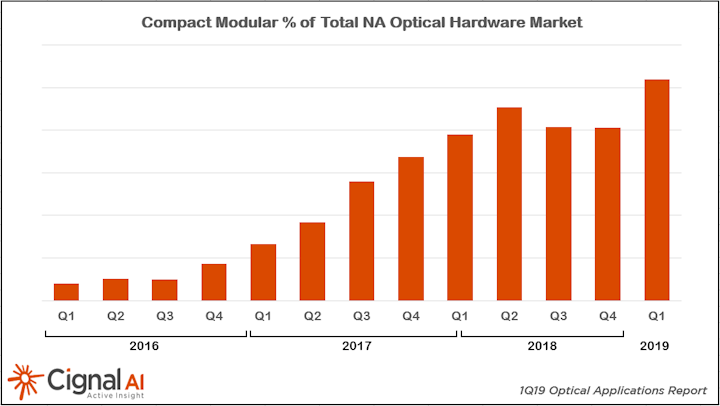 Cignal AI
Compact modular optical hardware became popular as "pizza box" 1RU systems reached the market for data center interconnect applications. Now such systems are finding use in other applications, leading to sales of more than $275 million in the first quarter of this year, according to Cignal AI. The market research firm states in its latest "Optical Applications Report" that compact modular hardware sales are on pace to exceed $1 billion by the end of 2019.
"Network applications for the compact modular form factor have expanded well beyond the original data center interconnect deployments," said Scott Wilkinson, lead analyst for optical hardware at Cignal AI. "Applications now include traditional telco networks, metro and long-haul deployments, and even some early trials for subsea deployment. We expect this spending trend to increase in 2019 as new compact modular products come to market from a variety of vendors."
In the first quarter of this year, growth in compact modular optical hardware sales was particularly strong in North America. Such compact systems composed nearly 30% of the total North American optical network hardware spend for the quarter and should continue to increase through 2023, Cignal AI predicts. Leading systems include the Ciena Waveserver, Infinera Cloud Xpress, and Groove G30 (the latter from the Coriant acquisition), and Cisco 1000 series. Overall, Ciena dominates the market, according to Cignal AI, with more than 50% market share in 1Q19. The Infinera systems combined to give the company the Number 2 slot for the quarter, despite a decline in sales. Sales of Cisco compact modular platforms also slowed as customers awaited shipments of the NCS1004 platform. Looking ahead, Cignal AI expects systems using the Acacia Communications AC1200 coherent optical module to begin affecting the market in the second quarter of 2019.
Elsewhere in optical transport, Cignal AI says in the "Optical Applications Report" that nearly 500,000 coherent ports have shipped in the last 12 months. The top five vendors account for more than 70% of these shipments, the market research firm reports. Shipments for long-haul applications showed signs of renewed growth in the first quarter and metro applications also showed strength during the first three months of the year.
The same cannot be said for packet OTN hardware, as sales growth slowed during the quarter. As other regions turn toward alternatives, new deployments of packet OTN architecture are becoming limited to China and other parts of Asia-Pacific, says Cignal AI.
The quarterly Cignal AI "Optical Applications Report" includes market share and forecasts for revenue and port shipments for optical equipment within three application categories: 100G+ coherent, compact modular, and advanced packet-OTN switching hardware. The current edition details market share for the first quarter of 2019 and provides forecasts of hardware and coherent port shipments through 2023.
For related articles, visit the Business Topic Center.
For more information on high-speed transmission systems and suppliers, visit the Lightwave Buyer's Guide.