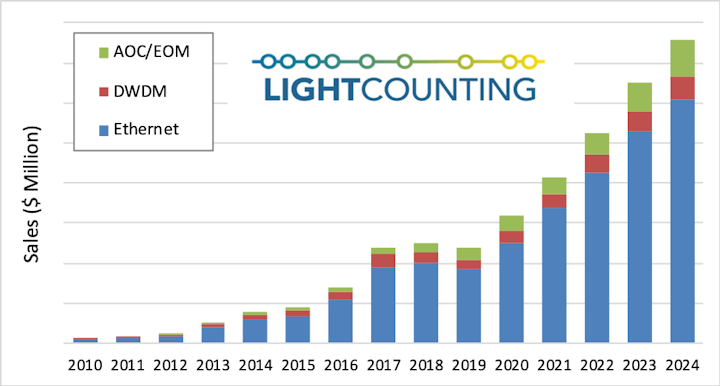 LightCounting
LightCounting says that optical module vendors shouldn't worry long-term regarding sales to the major cloud data center operators. Growth should begin again in 2020 and continue for at least several more years to come. Of course, that implies technology suppliers have to get through 2019 first.
The market research firm states in the newly released 2019 edition of its "Mega Datacenter Optics Report" that while cloud data center operators have provided strong growth to optical module sales for the last several years, that growth began to slow in the second half of 2018. Prices for 100 Gigabit Ethernet (100GbE) modules also declined, adding to the squeeze on revenues.
The second-half slowdown trimmed overall sales growth for 2018 to 5%, a sharp decrease from the 70% growth of 2017. The outlook looks even worse for this year, as LightCounting predicts the market will decline by 5%, the first time sales to cloud data center operators will have shrunk since 2010, if not before (see chart above).
The market research firm asserts four factors have led to the current situation:
excess inventory of 100GbE modules
the transition to new switches based on Tomahawk 3 ASICs and related supply constraints
economic uncertainty exacerbated by current tensions between the US and China.
new regulations and penalties related to data privacy issues and alleged monopolistic practices.
While the latter two issues are outside of cloud data center operators' control, the first two are temporary, in LightCounting's estimation. Therefore, the market research firm predicts sales to cloud data center operators will return to growth mode in 2020-2024. Interest in such new optical modules such as 100GbE DR1, 200GbE, 2x200GbE, and 400GbE DR4 (including 4x100GbE) will prove catalysts to spending, as will sales of new DWDM and active optical cable products.
LightCounting's "Mega Datacenter Optics Report" examines the development of this market in 2010-2018 and its potential growth in 2019-2024. The database that comes with the report contains sales projections for more than 50 product categories of Ethernet optical transceivers, DWDM optics, active optical cables, and embedded optical modules, segmented into telecom, enterprise, and cloud applications. The cloud segment includes optics used inside the mega-data centers of cloud companies as well as in data center interconnect.
For related articles, visit the Business Topic Center.
For more information on optical modules and suppliers, visit the Lightwave Buyer's Guide.