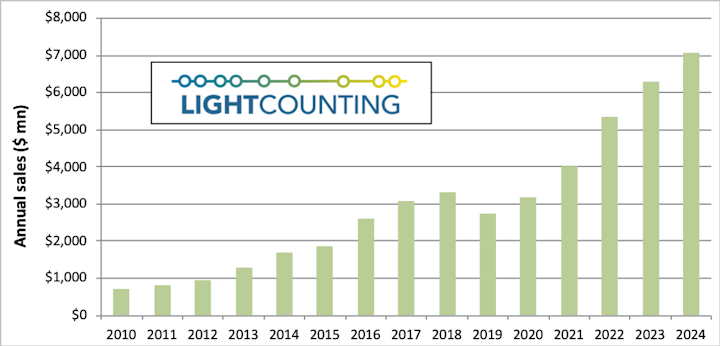 LightCounting
LightCounting says it expects sales of Ethernet optical transceivers will have declined by 18% when it tallies figures for 2019. The decline is the largest the market research firm has recorded and the first year-on-year dip since 2009, when sales slipped 4%. However, LightCounting states in its new "High Speed Ethernet Optics Report" that purchases of Ethernet optical transceivers should rebound through 2024 (see chart above).
Four factors have combined to push Ethernet optical module sales lower, LightCounting says in the report:
The transition to next-generation products has taken longer than expected.
Prices of 100GbE modules set record lows in the first quarter, which LightCounting says led network operators to expect lower prices for next-generation products as well.
Hyperscale data center operators reduced their purchases of optical modules for intra-data-center networks.
The trade war between the U.S. and China has created economic uncertainty among data center operators in both countries.
Nevertheless, LightCounting views the current downturn as temporary. The market research firm forecasts that sales in the 2019-2024 time frame will enjoy a 22% CAGR. Sales of next-generation products such as 200G and 400G optical transceivers and a continuing demand for 100GbE optics (even at lower prices) will drive this growth, LightCounting predicts.
LightCounting's "High-Speed Ethernet Optics" report includes forecasts for more than 50 product categories, including 10GbE, 25GbE, 40GbE, 50GbE, 100GbE, 200GbE, 2x200GbE, and 400GbE transceivers, sorted by reach and form factors. It summarizes technical challenges faced by high-speed transceiver suppliers and reviews the latest products and technologies introduced by leading suppliers.
For related articles, visit the Business Topic Center.
For more information on optical modules and suppliers, visit the Lightwave Buyer's Guide.
To stay abreast of optical communications technologies, subscribe to Lightwave's Enabling Technologies Newsletter.