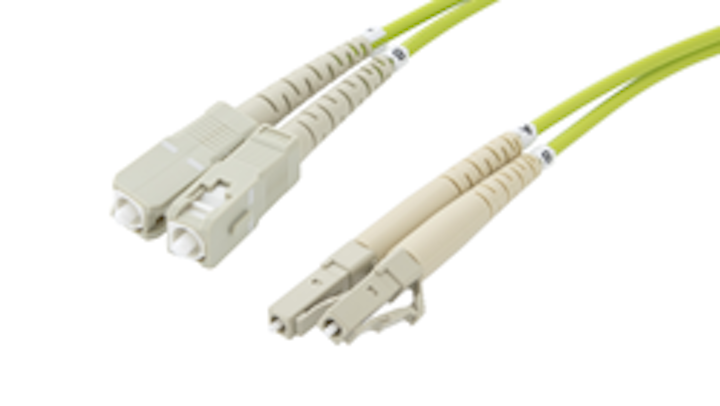 L-com, an Infinite Electronics brand, now offers OM5 multimode fiber cable assemblies for use in high-speed data center networks. The fiber-optic cables are in-stock and available for immediate shipment.
The company points out that OM5 fiber cables provide maximum reach for short wavelength division multiplexing (SWDM) applications. Use of SWDM can reduce parallel fiber counts by at least a factor of four. Thus, network operators will require only two fibers (rather than eight) to support 40 Gigabit Ethernet and 100 Gigabit Ethernet (see "SWDM Alliance targets data center wideband multimode fiber use" and "Finisar producing 100G SWDM optical transceiver for upgrades from 10 to 100 Gbps").
L-com offers OM5 cables with OFNR and low-smoke zero-halogen (LSZH) jacket options and such connector combinations as SC to SC, SC to LC, and LC to LC. Eight standard lengths are available for each cable family, ranging from 1 to 25 m. Custom lengths for assemblies are available upon request.
"To address the growing demand for high-speed voice, video, and data traffic and the need to reduce the number of cables and connectors used in today's crowded data centers, our new OM5 cables provide the perfect solution," said Paul Hospodar, product line manager at L-com. "Additionally, OM5 cables were typically only available as custom order products with long lead times until now."
For related articles, visit the Data Center Topic Center.
For more information on fiber cable and suppliers, visit the Lightwave Buyer's Guide.