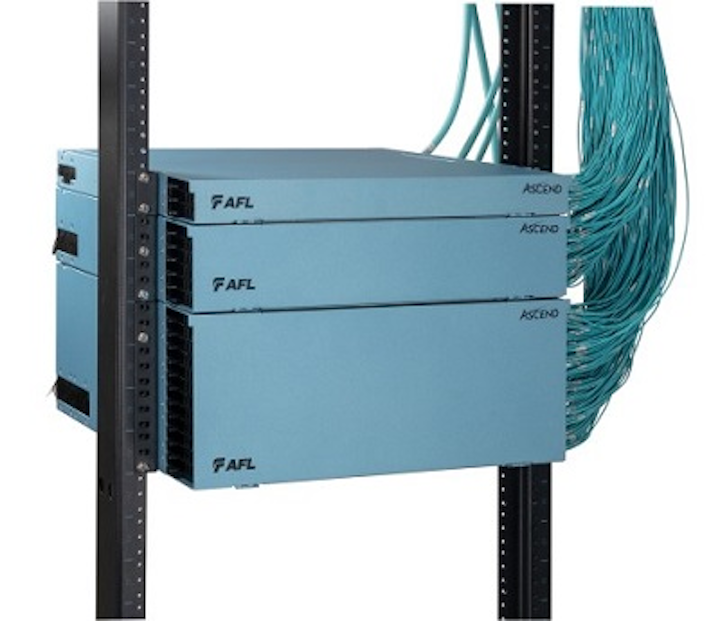 AFL has used this week's BICSI Winter Conference and Exhibition in Orlando, FL, to launch the ASCEND family of fiber housings, cassettes, and assemblies for high-density data center applications. The ASCEND line offers flexibility, functionality, and ease-of-use, AFL says.
The ASCEND fiber housings come in 1RU, 2RU, and 4RU sizes to serve requirements for up to 144, 288, and 576 fibers, respectively. The housings' front and back doors are hinged on the bottom, and back of the housing cover is removable for better access to fiber-optic connector interfaces. Routing rings at the front of the trays makes routing patch cords, easy, secure, and organized, AFL asserts.
The cassettes that populate these housings are designed to offer a wide range of options, according to AFL. These include BASE-8 to BASE-24 for both single-mode fiber and multi-mode fiber applications. These include applications ranging from patch-thru connectivity to WDM installations. The cassettes use MPO connectors and VFL-compatible shuttered LC adapters. Splice cassettes compatible with all BASE-12 ASCEND housings include 250-µm pre-terminated single-fiber pigtails and can be spliced directly to loose or ribbon fiber cable. Fanout cassettes for single-mode fiber and multimode fiber applications designed to transition a trunk cable into individual connector ports are pre-terminated plug and play breakout modules.
Trunk cable and patch cord assemblies round out the ASCEND portfolio. The trunk cable assemblies leverage the company's Microcore® cable and the MTP PRO connector to support field-reversible polarity and gender with no housing removal, exposed fibers, or loose points. They also include an integrated cable mounting clip designed to eliminate the need for additional cable clamps while securely positioning the incoming cable and eliminating cable stress. The trunk cable assemblies are available in 12 to 144 fiber counts and in BASE-8 and BASE-12 configurations.
The patch cord assemblies use AFL's Dual-Link fiber cable terminated with a field-reversible LC Uniboot connector. The design minimizes the front-side cabling footprint and reduces the impact on airflow up and down the rack as well as between racks, AFL asserts.
BICSI Winter 2019 attendees can see the ASCEND family in Booth 1033.
For related articles, visit the Data Center Topic Center.
For more information on fiber cable and suppliers, visit the Lightwave Buyer's Guide.