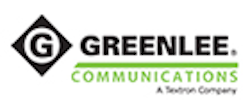 1390 Aspen Way
Vista, CA 92081
United States
As service providers around the globe continue to see a rapid increase in the demand for media-rich, high-bandwidth services and applications, it is imperative companies deliver the best quality experience in video, data, and voice services.
Greenlee Communications provides network operators in the Broadband, Metro, Utility, Telco and MSO markets comprehensive and proven solutions from installation and turn-up to maintaining networks.
As a leading manufacturer of end-to-end test and measurement equipment, our products cover all stages of high-speed network deployment including development, installation, termination, verification and troubleshooting. Built on a strong legacy of top selling VDV instruments and innovation in wireless networks, coupled with strategic acquisitions in Fiber Optics and Ethernet, Greenlee Communications has emerged as a leading global provider of next generation solutions.
Our expanding portfolio of products includes Copper and Fiber qualification equipment, Ethernet, Transport, xDSL, IPTV and Wi-Fi® test solutions, tracing and locating equipment, and fiber/cable jet installation equipment. These products help scale legacy Copper to high-bandwidth Fiber Optic and Wi-Fi networks with the speed, accuracy and reliability technicians expect and trust from Greenlee Communications.
Request More Information
Fill out the form below to request more information about Greenlee Communications.
---