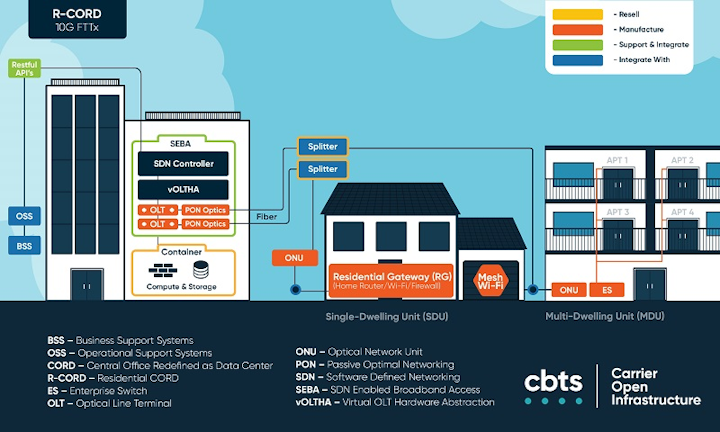 CBTS (also known as OnX in Canada), the systems integrator division of Cincinnati Bell (NYSE:CBB), has unveiled its Carrier Open Infrastructure (COI) reference architecture. The COI is an open, software-defined networking (SDN) friendly, whitebox approach to XGS-PON network deployments that leverages the work of the Open Networking Foundation (ONF) and the Open Compute Project (OCP). CBTS will offer the hardware and software elements in an integrated package to operators who want to deploy open SDN-based access networks but don't have the in-house resources necessary to acquire and integrate the necessary hardware and software.
The COI offering will comprise a variety of software and hardware elements, according to Bob Lamb, program director for COI at CBTS. On the hardware end, CBTS has introduced the CO-OLT24XG-PON, a 1RU open XGS-PON optical line terminal (OLT) based on an AT&T contribution to OCP (see "AT&T plans field trial of open system, cloud-based XGS-PON"). The open OLT offers 24 ports for PON XFPs (which CBTS also will offer) as well as six 100 Gigabit Ethernet trunking ports. Located either in a central office or in the field, the CO-OLT24XG-PON will support up to 256 ONTs or 2048 service flows per PON port. CBTS also will offer a pair of ONT options. The XG-99K is an indoor ONT for single family unit applications, while the XG-99S integrates ONT functions into an SFP optical transceiver that can be plugged into a residential gateway or enterprise switch. CBTS plans to offer these boxes as well. Lamb said that CBTS will work with ODM companies for hardware supply. He did not identify the ODMs with whom the company is working, but it's known that Edgecore Networks has been vocal about its support of OCP-based open XGS-PON OLT platforms based on the AT&T contributions (see, for example, "Edgecore Networks touts disaggregated 10G PON, GPON OLTs"), but is by no means the only vendor active in this area. Lamb said the selected ODM is licensed to use Plume's Wi-Fi mesh technology to enable such capabilities in the home.
He added that the platforms will use an FPGA-based approach to enable flexibility and futureproofing. The OLT should be available for testing by the end of this month.
CBTS will tie the hardware together with software based on ONF specifications, including Virtual OLT High Availability (vOLTHA) and SDN Enable Software Access (SEBA; see "ONF puts new strategic plan pieces in place"), an Exemplar Platform. The use of the ONF-friendly software platforms will enable CBTS to work within a multivendor, multi-technology environment with universal software control and orchestration, Lamb points out.
Four operators have COI proof-of-concept exercises underway, Lamb said. He did not name them, but indicated they include operators who are active within ONF's SEBA and related work. (SEBA operator partners include AT&T, Deutsche Telekom, NTT, and Turk Telekom). Lamb expects field deployments to begin in the second half of this year, ramping in 2020. Meanwhile, CBTS has begun to think about expansion possibilities for COI, which include support of wireless deployments, G.fast distribution point units (DPUs) for MDU applications, and 25G-PON.
For related articles, visit the FTTx Topic Center.
For more information on FTTx technology and suppliers, visit the Lightwave Buyer's Guide.