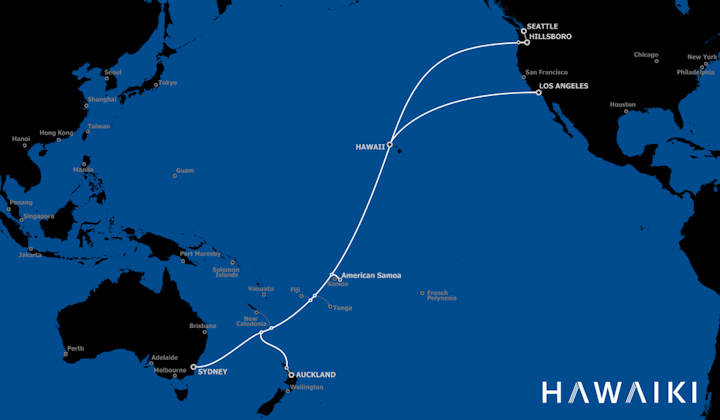 Hawaiki Submarine Cable LP says is now offers its customers a direct route to Los Angeles. The new link, based on the most easterly segment of the SEA-US undersea cable, is the undersea cable system's fourth U.S. touchpoint, including previous links to Hillsboro, OR; Seattle, WA; and Hawaii. Hawaiki also connects Sydney, Australia, and Auckland, New Zealand, to the west.
The new route offers a particularly low latency path between Sydney and Los Angeles, the company asserts. "As demand for capacity continues to rise sharply, customers are constantly looking for versatile connectivity solutions. This expansion marks an important milestone for Hawaiki as it both strengthens our position in the U.S. market and greatly enhances our network flexibility," said Hawaiki CEO, Remi Galasso. "It also provides our customers with powerful new options in terms of capacity products, delivery points, and route diversity."
Ready for service in July 2018, the 15,000-km Hawaiki carrier-neutral submarine cable offers a design capacity of 67 Tbps (see "Hawaiki Submarine Cable system ready for service"). The submarine network deployment cost $300 million and took 27 months to complete. SubCom (formerly TE Subcom and now owned by Cerberus Capital Management, L.P.), designed and deployment the fiber-optic cable network (see "Hawaiki transpacific submarine cable project advances to marine survey stage"). Its customers include Vodafone and Amazon Web Services (see "Amazon Web Services signs with Hawaiki Submarine Cable").
For related articles, visit the Network Design Topic Center.
For more information on high-speed transmission systems and suppliers, visit the Lightwave Buyer's Guide.