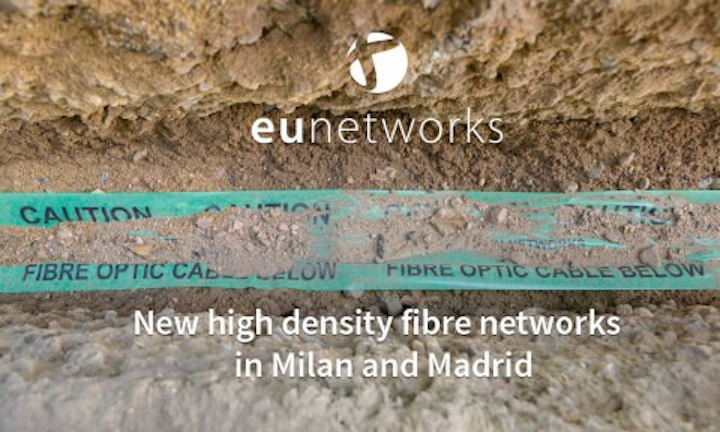 BusinessWire
Fiber-optic network services company euNetworks Group Ltd. says it has constructed new high-fiber-count metro networks in Milan and Madrid. The fiber-optic networks cover the financial districts and connect to data centers of their respective cities; the Madrid fiber footprint includes Silicon Alley, says the company.
The Milan fiber network extends 118 km, with base ring of 30 km built with 432-fiber cable and overlapping ring segments connected by 864-fiber cable. The metro network connects with eight data centers and offers what euNetworks asserts is a unique northern route from via Caldera to DATA4, with four diverse entries. euNetworks says it will focus on delivery of dark fiber and wavelength services to customers in the city.
In Madrid, euNetworks has installed 60 km of new build duct and sewer-based network infrastructure. The fiber network spans the north of the city, close to the city center and financial district and running to the southeast to Silicon Alley. The infrastructure connects four data centers, with more connections planned. The new Madrid metro network also links to what euNetworks termed "key long haul sites," with pre-spliced dual laterals. The network construction features dedicated pre-spliced G.657 768-fiber cable to enable rapid service delivery and higher fiber counts than alternative providers can offer, euNetworks asserts. Again, the focus will be on dark fiber and wavelength services.
euNetworks currently serves 17 metro markets in Europe, connected via a long-haul fiber-optic network. The new footprints in Milan and Madrid are part of an ongoing expansion effort.
"We lit 25,200 km of fiber to our long-haul network between 2015 and the end of 2018," said Brady Rafuse, CEO of euNetworks. "That investment extended our reach into the Nordics, completed our pan-German network, and extended our reach from Paris to Switzerland, Marseille, Madrid, and back up to Frankfurt. The addition of the Vienna metro network in March this year, and now Madrid and Milan, complement those investments, delivering unique routes and multiple paths for our customers to reach the data centers they need to in these cities. We work closely with our customers, building unique, differentiated networks. We're delighted to have metro presence in Milan and Madrid, with local teams on the ground. We look forward to working closely with the data center operators in Milan and Madrid and of course our customers as their presence here grows."
For related articles, visit the Network Design Topic Center.
For more information on high-speed transmission systems and suppliers, visit the Lightwave Buyer's Guide.
To stay abreast of fiber network deployments, subscribe to Lightwave's Service Providers Newsletter.