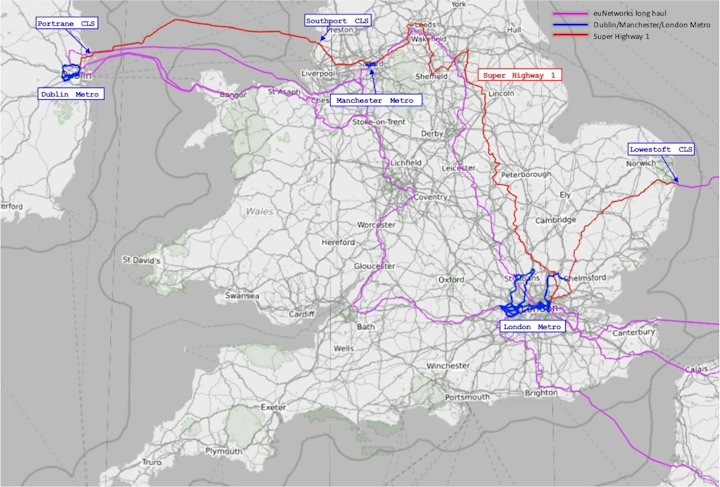 BusinessWire
euNetworks Group Ltd. says it has completed deployment of Super Highway 1, a new combination of submarine cable and terrestrial links that connect Dublin to London and Lowestoft, which is on the eastern coast of the UK. The fiber-optic network services provider says the duct and dark fiber infrastructure system uses ultra-low-loss fiber to reduce cost per bit, while the system route will meet the needs of clients who want to transport multiple terabits of traffic.
Super Highway 1 connects from Dublin to Southport, UK, via the Rockabill submarine cable. The route then proceeds to Manchester, London, and Lowestoft, directly connecting data centers along the way. euNetworks says that Super Highway 1 includes 1000 km of high-fiber-count cable, 340 new chambers, 239 new fiber joints, 2 new cable landing stations and 4 new ILA/PoP sites. Corning supplied the fiber for the route, including its SMF-28 Ultra G.657 fiber for the terrestrial links and SMF-28-ULL G.654C fiber for the Rockabill submarine cable. Construction began this past March, and euNetworks expects to begin delivering services November 25.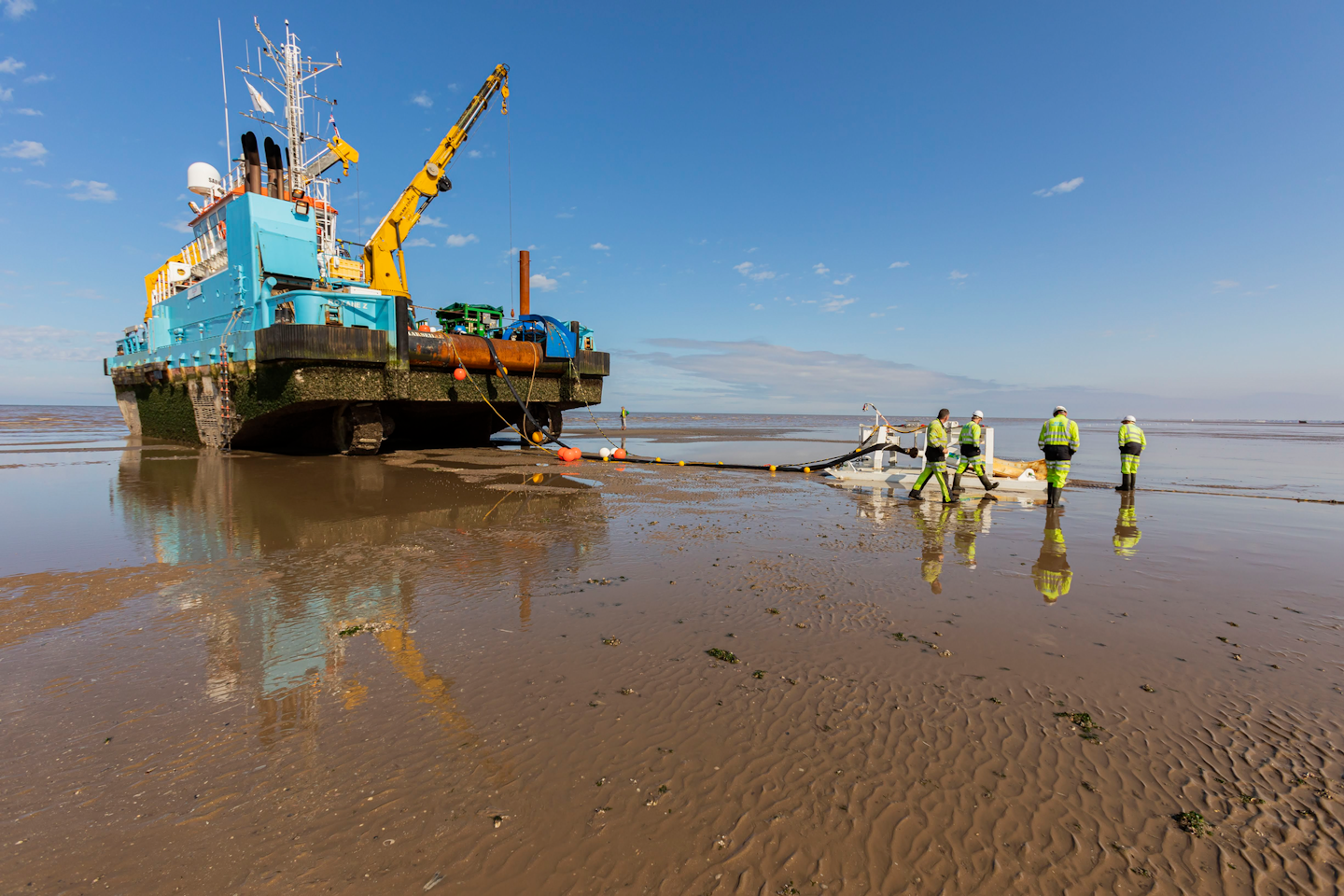 The Super Highway 1 Rockabill shore-end cable lay.BusinessWireeuNetworks worked with McMahon Design & Management Ltd. (MDM) to deploy the Rockabill undersea link, with MDM managing the development concept, permitting, licensing, and cable lay. The shore end work at Portrane and then Southport was undertaken this past July and the main lay cable works were completed in early September.
"Super Highway 1 is an important investment in Western European bandwidth infrastructure," said Brady Rafuse, CEO of euNetworks. "Critically for our customers this network development continues our approach of delivering highly scalable, owned, and operated fiber-based infrastructure to support their needs.
"Data center connectivity remains critically important to business today," added Rafuse. "This new fiber system delivers vital infrastructure to support the many businesses in Ireland and the UK whose connectivity requirements continue to grow, including the numerous hyperscale companies with a strong and growing presence in Ireland and beyond."
For related articles, visit the Network Design Topic Center.

For more information on high-speed transmission systems and suppliers, visit the Lightwave Buyer's Guide.
To stay abreast of fiber network deployments, subscribe to Lightwave's Service Providers and Datacom/Data Center Newsletters.