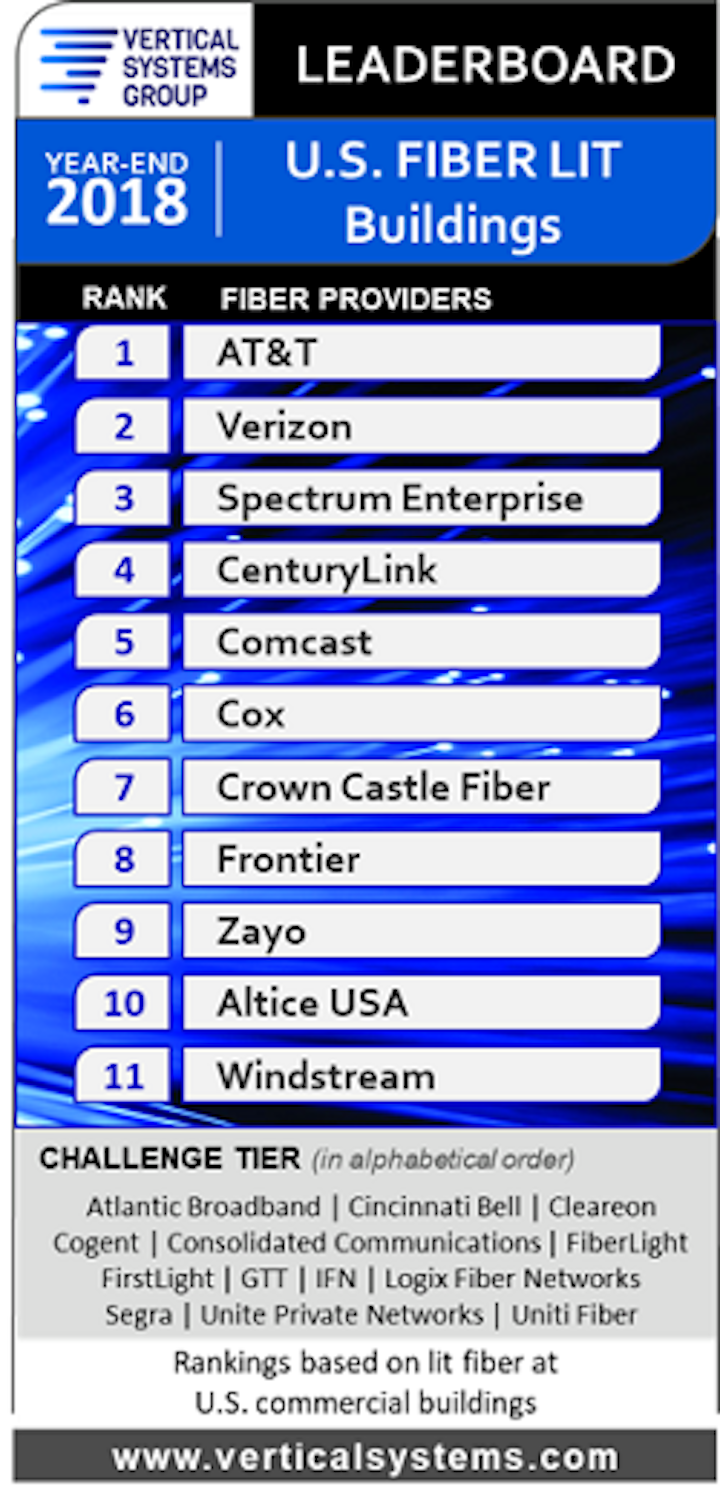 AT&T topped Vertical Systems Group's 2018 U.S. Fiber Lit Buildings Leaderboard, marking the third consecutive year it has held the top spot. Verizon nailed down second position, and nine other carriers also had the 10,000 or more on-net U.S. fiber lit commercial buildings needed to appear on the Leaderboard.
Vertical Systems Group defines a fiber-lit buildingas "a commercial site or data center that has on-net optical fiber connectivity to a network provider's infrastructure, plus active service termination equipment onsite." Standalone cell towers, small cells not located in fiber-lit buildings, near-net buildings, buildings classified as coiled at curb or coiled in building, buildings connected via hybrid fiber/coax (HFC) infrastructure, carrier central offices, residential buildings, and private or dark fiber installations are not included in the market research firm's calculations.
The company classifies the companies it follows for this study into three tiers. Besides AT&T and Verizon, the top tier included Spectrum Enterprise, CenturyLink, Comcast, Cox, Crown Castle Fiber, Frontier, Zayo, Altice USA, and Windstream.The next tier (the "Challenger" tier), with between 2,000 and 9,999 lit buildings, included Atlantic Broadband, Cincinnati Bell, Cleareon, Cogent, Consolidated Communications, FiberLight, FirstLight, GTT, IFN, Logix Fiber Networks, Segra (the new combination of Lumos Networks and Spirit Communications), Unite Private Networks, and Uniti Fiber. The other tier of companies Vertical Systems Group followed in 2018, called "Market Players," included Armstrong, C Spire, Centracom, Conterra, CTS Telecom, DQE Communications, EnTouch Business, Everstream, ExteNet Systems, Fatbeam, Fusion Telecom, Google Fiber, Hunter Communications, Infostructure, LS Networks, Mediacom Business, MetroNet Business, Monmouth Telecom, Orca Communications, Pilot Fiber, PS Lightwave, Shentel Business, Silver Star Telecom, Syringa, TDS Telecom, TPX Communications, U.S. Signal, Veracity, and WOW!Business, among others.
There was a bit of movement among the tiers during 2018. Windstream jumped from the Challenger tier to the top tier, while Frontier and Zayo switched spots on the Leaderboard from 2017 (see "AT&T, Verizon continue atop VSG 2017 U.S. Fiber Lit Buildings Leaderboard"). Atlantic Broadband and GTT were new entrants to the Challenger tier.
"Following a flurry of mergers and acquisitions, fiber providers focused on new buildouts in 2018 to meet customer demand for higher speed dedicated access to business services and to support 5G pilots," commented Rosemary Cochran, principal of Vertical Systems Group. "Our research shows that while the majority of large and medium size commercial buildings in the U.S. are fiber lit with one or more providers, relatively few small multi-tenant buildings are fiber connected. Cable MSOs and regional network operators have been most actively targeting fiber investment opportunities in this underserved segment."
For related articles, visit the Network Design Topic Center.
For more information on high-speed transmission systems and suppliers, visit the Lightwave Buyer's Guide.