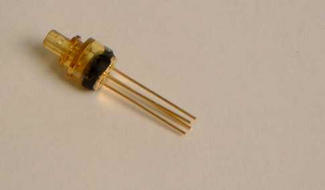 LuxNet's Receiver Optical Subassembly
LuxNet Corp. today introduced its 850-nm LC-TOSA (Transmitter Optical Subassemblies) and LC-ROSA (Receiver Optical Subassemblies). These products, which utilize LuxNet's high speed, high performance, and high reliability 850-nm VCSELs, are designed for Fiber Channel, Gigabit Ethernet, and ATM/SONET transceivers and meet today's rigorous failure rate standards for telecom and datacom devices, claim company representatives.
LuxNet's TOSA and ROSA are available in two versions. All versions meet the performance requirements of very short and short reach multimode fiber-optic applications. The first version performs at 1.06 Gbits/sec to 1.25 Gbits/sec and the second version performs from 2.1 Gbits/sec to 2.5 Gbits/sec.
"At the heart of this TOSA is a LuxNet high speed VCSEL," explains Andy Liao, vice president of Laser Technology. "The proprietary design of this VCSEL gives it oxide VCSEL-like performance and an implant VCSEL-like reliability," he adds.
"The TOSA integrates the VCSEL with an optical receptacle that efficiently couples the VCSEL light to multimode fiber, and makes integration of the VCSEL into the optical transceiver a breeze," contends James Chang, LuxNet's director of Packaging Technology.
According to LuxNet's vice president of Detector Technology, Ghulam Hasnain, "the essential part of our ROSA is LuxNet's state-of-the-art GaAs PIN detector that has extremely low dark current, high responsivity, and very low capacitance. The PIN chip together with a transimpedance amplifier and optical receptacle form the ROSA that is key to a high sensitivity optical receiver. Our 850-nm ROSA demonstrates receiver sensitivity of -19 dBm at 2.5 Gb/s data rates."
LuxNet Corp. (Fremont, CA) designs and manufactures high performance, high reliability, low-cost VCSEL, PIN, FP, and DFB components and subassemblies for short and long wavelength optical applications. For more information about the company, visit its Web site at www.luxnetcorp.com.

The Transmitter Optical Subassembly from LuxNet