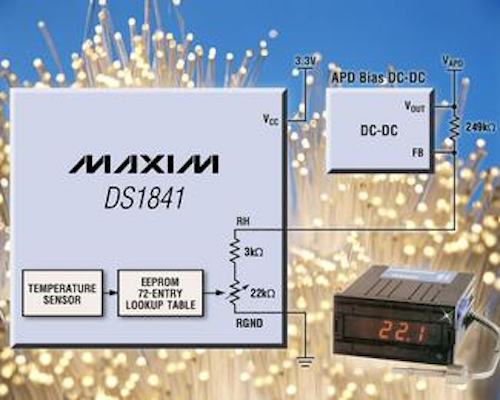 FEBRUARY 7, 2008 -- Maxim Integrated Products (search for Maxim Integrated Products) today introduced the DS1841 temperature-compensated resistor optimized for avalanche photodiode (APD) voltage control.
This I2C-controlled, 128-position digital resistor utilizes a logarithmic scale specifically designed to linearize the control of APD voltages in fiber-optic modules, explain company representatives. Every 2 ° Celsius, an internal temperature sensor and analog-to-digital converter (ADC) update the digital resistor's wiper position based on the temperature and the value corresponding to that temperature in its on-chip, 72-byte EEPROM lookup table. Both the temperature and supply voltage can be read on the I2C bus for other control/monitoring purposes. Maxim says the robust, predictable operation of the DS1841 makes it ideal for use in fiber-optic modules that require a temperature-controlled voltage output.
The DS1841 is fully specified over the -40 ° Celsius to +100 ° Celsius operating temperature range and is packaged in a 3-mm x 3-mm, 10-pin TDFN. Pricing begins at $0.68 in quantities of 10,000 and up.

Visit Maxim Integrated Products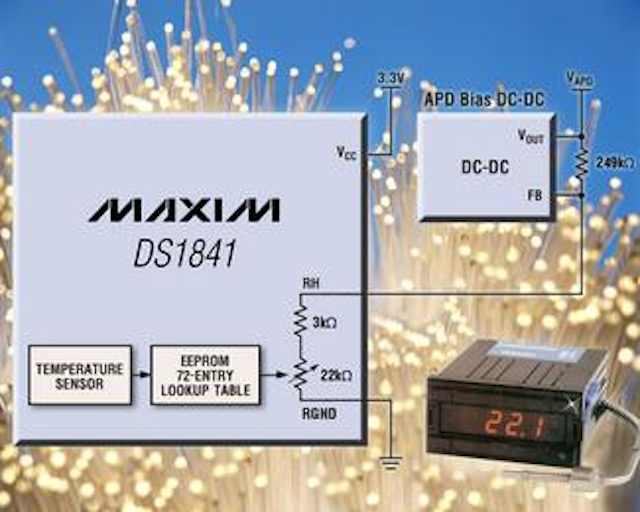 The DS1841 is packaged in a 3-mm x 3-mm, 10-pin TDFN.