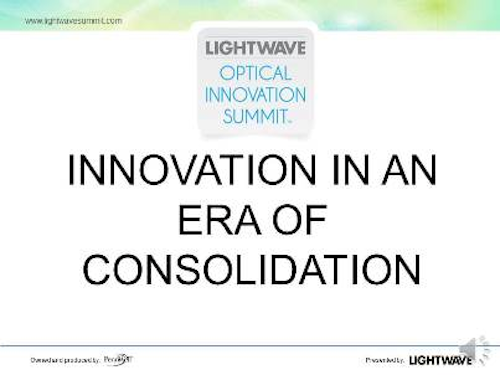 Delivering the necessary innovation for optical communications applications is one thing. Paying for it is another, particularly for developers of optical components and subsystems. As Dr. Richard Craig, president of Oclaro's Integrated Optics Business, expressed it in a slide at the Lightwave Optical Innovation Summit Tuesday: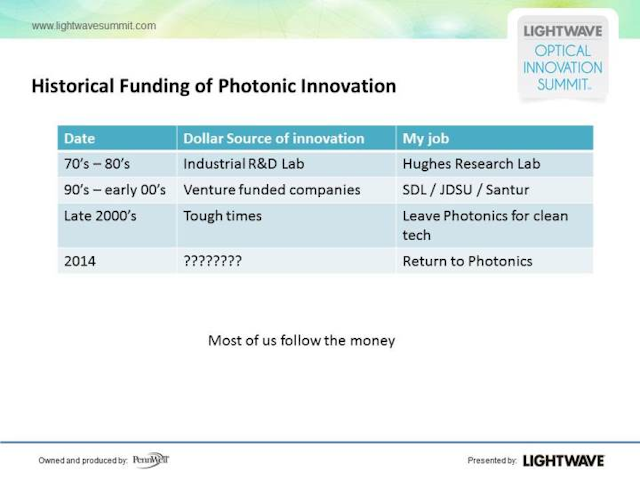 Brandon Collings, CTO, optical communications for JDSU's CCOP Business Unit, had an answer for Craig in a workshop sponsored by Fujitsu Network Communications. No one is helping margin-challenged component suppliers fund R&D, so we have to do it ourselves, he stated.

The fact that R&D spending in optical communications is inefficient compounds the problem, agreed Craig's co-panelists, Daryl Inniss, vice president and practice leader, components, at Ovum; Daryl Inniss, Ovum; Jerry Rawls, executive chairman of Finisar; and Bob Leggett, executive chairman, Coriant and operating partner, Marlin Equity Partners. Too many companies spend scarce research dollars trying to solve the same problem, they concluded.

True consolidation might improve R&D efficiency. However, Rawls acknowledged that the players within the optical components and subsystems niche hadn't done a good job of this in the more than 10 years since the optical communications bubble burst, and likely wouldn't improve in this area any time soon.

More partnerships would help, the panelists agreed. Alliances between suppliers and customers are already common – in fact, they're essential, Collings stated, because component suppliers can't afford to create a technology unless they're sure someone wants it. However, companies may have to start thinking along new lines, including, potentially, collaborating with real or potential competitors. The alliance between Ciena and Ericsson (see "Ericsson, Ciena pair on packet-optical transport, SDN development") was cited as a model to follow.

The other avenue is to get the end customers – the carriers – to help fund R&D. Asked about this possibility in the Fujitsu workshop, Verizon Labs Vice President and Chief Technologist Stu Elby pointed out that the company has a VC arm as well as a history of offering incubator assistance via innovation centers to startups in areas of interest; it had done so in optical communications in the early 2000s and is doing so now in wireless. "It's probably time to get back into the optical space," he said.

For more information on optical components and suppliers, visit the Lightwave Buyer's Guide.