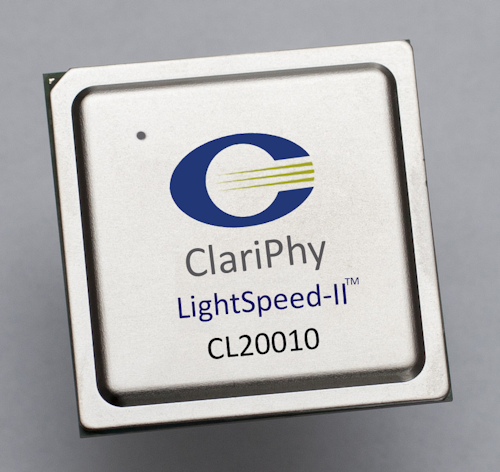 ClariPhy asserts the LightSpeed‐II CL20010 coherent SoC in 28 nm is the only commercial, off‐the‐shelf system DSP IC with configurable bandwidth to support data rates from 40G to 200G per wavelength. The host side supports the OTL4.10 and CAUI interfaces to maximize the ease of interface to switches, framers, and ASICs. The line side interfaces with all popular coherent optical modules, including pluggable CFP2‐ACOs, and common optical components used within MSA-based designs. The CL20010 delivers a multi‐rate and multi‐modulation architecture enabling true software-defined networking (SDN) at the physical layer. The flexible modulations and rates coupled with the 11.3 dB NCG SD-FEC ensures delivery of optimal spectral density, power, and low system costs.
The CL20010 supports single‐carrier 200G coherent transmission using 16QAM modulation, which when combined with its integrated transmit spectral shaping filtering capabilities, enables dual‐carrier 400G superchannels on 75-GHz DWDM spacing. The CL20010 integrates critical OTN muxponder functionality, which supports transport applications, by multiplexing two independent 100G client signals (either OTU4 or 100G Ethernet) onto a single DWDM wavelength using the same low cost optics employed for 100G coherent transmission.Judge's comment: "Truly groundbreaking, breathtaking, and revolutionary. Ushers in an entire new era in optical communications. Solves the bandwidth ceiling Ethernet was running into. Amazing."
Click here to return to the 2016 Lightwave Innovation Reviews page.