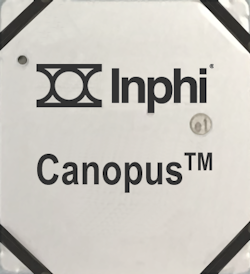 Inphi
Inphi Corp. (NYSE: IPHI) says it has begun sampling its Canopus coherent Digital Signal Processor (DSP). The 7-nm coherent DSP is designed to enable the development of QSFP-DD, OSFP, and CFP2-DCO pluggable optical transceivers for various 400-Gbps applications, including 400ZR and 400ZR+. Nariman Yousefi, senior vice president, coherent DSP, at Inphi said he expects products using the Canopus DSP to reach the market by the second half of 2020.
The Canopus is the first merchant 7-nm coherent DSP to reach the sampling stage, Yousefi asserted. Creating the DSP using a 7-nm process results in the cost and power savings necessary to support 400G in the pluggable form factors, he said. The approach reduces power dissipation by more than 75% and cost by more than 50% versus the previous generation of technology, according to Yousefi. The chip therefore will enable 400ZR and ZR+ optical transceivers in QSFP-DD and OSFP form factors for data center interconnect (DCI) and similar applications that require reaches of around 120 km. A software-selectable probabilistic shaping feature enables the Canopus chip to meet the 400G requirements of metro and long-haul applications as well, Yousefi said. The additional power such a capability would require in operation means an optical transceiver in the CFP2 format, Yousefi pointed out. The device will support transmission rates of 100, 200, and 300 Gbps in addition to 400 Gbps.
The market the Canopus will address is significant, according to Andrew Schmitt, directing analyst at Cignal AI. "The market for coherent pluggable optics will exceed $500 million by 2023," Schmitt said via an Inphi press release. "Canopus is the first product to bring standards-based interoperability to coherent networking and enable disaggregation of high-performance optical modules in both cloud DCI and traditional service providers."
"400G ZR and ZR+ DCO modules will deliver an unmatched value proposition for cloud and service provider customers," added Christophe Metivier, vice president of manufacturing and platform engineering at Arista Networks, via the same release. "At Arista, we look forward to supporting these modules on our standard switches and routers with pluggable ZR and ZR+ modules for DCI, metro, and even long-haul DWDM networks."
Yousefi said that Inphi is building an "ecosystem" of customer partners around Canopus that will enable OEMs and network operators a choice of interoperable pluggable optical modules. Molex Optoelectronics and NeoPhotonics, who contributed quotes to the press release announcing Canopus, are two members of this group; Yousefi said there are others whom he declined to identify.
For related articles, visit the Optical Technologies Topic Center.
For more information on communications silicon and suppliers, visit the Lightwave Buyer's Guide.
To stay abreast of optical communications technology advances, subscribe to Lightwave's Enabling Technologies Newsletter.