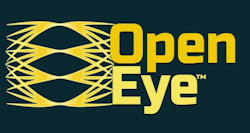 The Open Eye Consortium (Open Eye MSA) has released a specification for fully analog 53-Gbps per lane PAM4 transmission over single-mode fiber. The MSA members expect the specification will lead to development of 50G SFP, 100G DSFP, 100G SFP-DD, 200G QSFP, and 400G QSFP-DD and OSFP single-mode fiber modules that are less expensive and complex than digital approaches that require DSPs. Development of such modules is well underway, with the Open Eye MSA planning multi-vendor interoperability demos at CIOE and ECOC this month.
The Open Eye MSA announced its plans this past May (see "Open Eye MSA targets DSP-free PAM4 optical transceiver designs"). The resulting specification currently is available only to MSA members. The document should be generally available next spring, the MSA says. Members include initiators MACOM and Semtech Corp.; other promoting members include Applied Optoelectronics Inc., Cambridge Industries Group (CIG), Juniper Networks, Luxshare-ICT, Mellanox, and Molex. Original contributing members included Accelink, Cloud Light Technology, InnoLight, Keysight Technologies, Maxim Integrated, O-Net, Optomind, Source Photonics, and Sumitomo Electric. Concurrent with the specification release, the MSA announced the addition of Anritsu, Dust Photonics, Fujitsu Optical Components, HG, Inopticals, Marvell, MultiLane, SAMTEC, and Tektronix in the contributors category.
MACOM has announced an Open Eye compliant chipset, while CIG says it will unveil a 200G FR4 optical module at CIOE. The CIG module is in early sampling, with general availability expected in early 2020.
The specification features what the MSA calls "optimized analog clock and data recovery (CDR) based architectures" to provide lower cost, power, and latency than DSP-based designs. These analog-based modules should be interoperable with DSP-based alternatives; CIG asserts this characteristic for its new module.
Those interested in the MSA or specification can contact the group or visit its website.
For related articles, visit the Optical Technologies Topic Center.
For more information on optical modules and suppliers, visit the Lightwave Buyer's Guide.
To stay up to date on optical communications technology, subscribe to the Lightwave Enabling Technologies Newsletter.