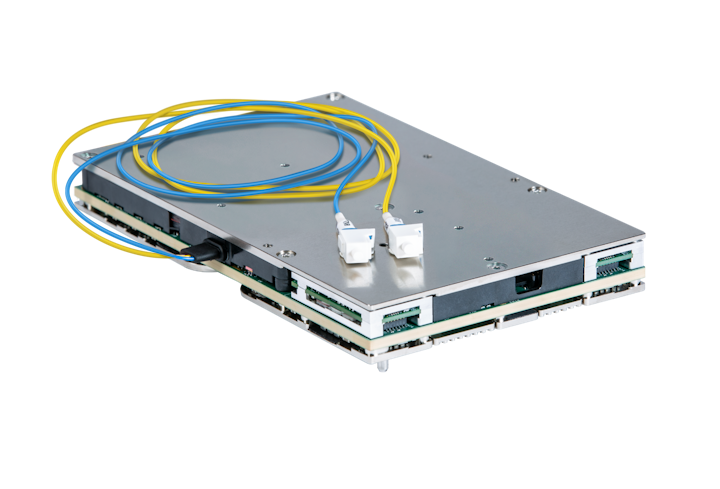 Acacia Communications, Inc. (NASDAQ: ACIA) has announced a follow on to its AC1200 1.2-Tbps coherent module The AC1200-SC2 module also supports 1.2 Tbps but via a single channel and a single coherent DSP chip (hence the SC2); its predecessor required a pair of 600-Gbps channels to deliver 1.2 Tbps. The company plans to demonstrate the AC1200-SC2 at ECOC 2019 September 22-26 in Dublin, Ireland. An Acacia source says the company already has customers lined up for the optical module.
Leveraging Acacia's Pico DSP ASIC, the adaptive baud rate module is designed to operate at 1.2 Tbps via 64QAM modulation, 800 Gbps using 16QAM, and 400 Gbps with QPSK, according to Acacia Vice President of Marketing Tom Williams. While Williams declined to specify reaches for each transmission rate, information provided by the company indicates the 1.2-Tbps transmission will cover data center interconnect/edge applications, the 800 Gbps metro and long haul, and the 400 Gbps submarine network distances. The AC1200-SC2 also can operate over a variety of spectrum widths (depending in part on the transmission rate being used), from 50 GHz to 150 GHz. Williams said that customers seem to be moving toward 150 GHz as a standard for upper-end transmission rates, as it plays well with fielded systems operating on 50-GHz or 100-GHz grids.
The AC1200-SC2 occupies the same footprint as the AC1200 (which Acacia says is about 40% smaller than that of a 5x7 module) and leverages such technologies as 3D shaping technology found in the previous module. Williams expects there will still be demand for the AC1200, particularly among operators who like the older module's flexible granularity. Meanwhile, the press release announcing the AC1200-SC2 contained quotes from four customers: ADVA Optical Networking, ECI Telecom, ZTE, and Cisco – the last of which plans to buy the company (see "Opinions abound on Cisco's planned purchase of Acacia Communications").
"This multi-haul coherent solution provides tremendous flexibility by adjusting modulation and baud rate to address different transmission capacity and reach," said Bill Gartner, senior vice president, optical systems and optics at Cisco Systems, as an example. "We've worked closely with our customers to deploy and trial our NCS 1004 in a wide range of network applications, including high-capacity DCI, metro and submarine. With the AC1200-SC2, our customers can achieve significant cost savings by freeing up valuable spectrum, enabling higher utilization across the entire network."
For related articles, visit the Optical Technologies Topic Center.
For more information on optical modules and suppliers, visit the Lightwave Buyer's Guide.
To stay up to date on optical communications technology, subscribe to Lightwave's Enabling Technologies Newsletter.