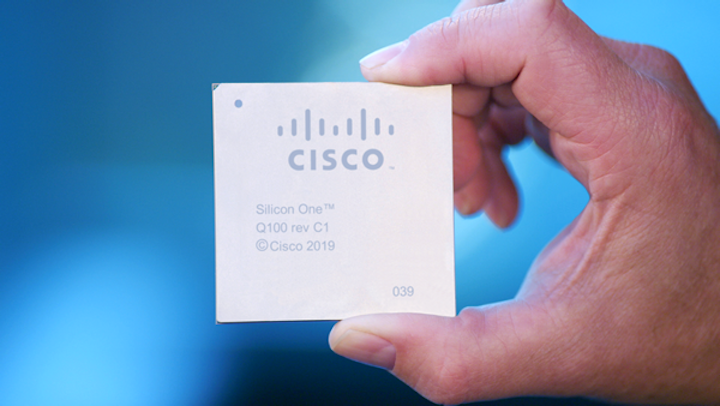 Cisco Systems
Cisco has revealed technology and go-to-market details of its new "Internet for the Future" strategy. On the technology side, the company announced Cisco Silicon One, a networking chip family designed to support multiple platform types and use cases; the new Cisco 8000 Series of carrier-class routers based on the first member of the Silicon One family; and the Cisco IOS XR7 networking operating system for the 8000 Series. The company also underscored its intention to continue to innovate within the silicon, optics, and software arenas and bring these innovations to market along diverse avenues from the chip to systems level. Cisco also lined up big name customers to offer endorsements of Internet for the Future elements.
The Silicon One family eventually will support up to 25 Tbps of routing capacity and will be the keystone of the company's routers going forward, Cisco says. The devices will be programmable, which makes them applicable across multiple platform types and applications, the company says – potentially including white box implementations from other hardware vendors. Along these lines, Cisco apparently has briefed various hypescalers about its intentions.
"We look forward to working with Cisco as it enters the high-end routing silicon space, collaborating to help meet the next generation of network demands for higher speeds and greater capacity," said Amin Vahdat, fellow and vice president of Systems Infrastructure, Google Cloud, via a Cisco press release.
"Facebook has been a strong advocate for network disaggregation and open ecosystems, launching key industry initiatives such as the Open Compute Project and the Telecom Infrastructure Project to transform the networking industry," added Najam Ahmad, vice president, Network Engineering at Facebook, in the same release. "Cisco's new Silicon One architecture is aligned with this vision, and we believe this model offers network operators diverse and flexible options through a disaggregated approach."
The first member of the chip family, the Q100, offers 10-Tbps of routing capacity. It serves as the heart of the Cisco 8000 Series. The carrier class router is optimized for 400-Gbps streams initially, which enables 10.8 Tbps of capacity in a single rack unit. The router will run on the "cloud-enhanced" Cisco IOS XR7 networking operating system and feature cybersecurity that leverages "integrated trust technology." The router is being deployed by Saudi Arabia based STC and is in trials with Comcast and NTT Communications, among others.
In the optics arena, Cisco did not unveil new products. But it did reiterate its desire to get into the merchant optical transceiver business. The company has long offered optical transceivers to its customers (including those of its own design, such as the CPAK), but their application has been mainly (if not exclusively) limited to Cisco platforms. To advance its merchant position, Cisco has agreed to purchase coherent transceiver vendor Acacia Communications (see "Cisco to buy Acacia Communications for optical transceiver, components play"), whose modules would easily accommodate the requirements of systems such as the 8000 Series as well as several other use cases. Regardless of the form or development origin, the company said it will qualify its optical transmission technology to industry standards so that they will work well in both Cisco and non-Cisco platforms. The company also said it will develop optics that will see an increasing number of functions currently housed in separate chassis integrated into pluggable form factors. Cisco points to silicon photonics as a pathway toward such ends.
For related articles, visit the Optical Technologies Topic Center.
For more information on high-speed transmission systems and suppliers, visit the Lightwave Buyer's Guide.
To stay abreast of optical networking developments, subscribe to Lightwave's Enabling Technologies Newsletter.