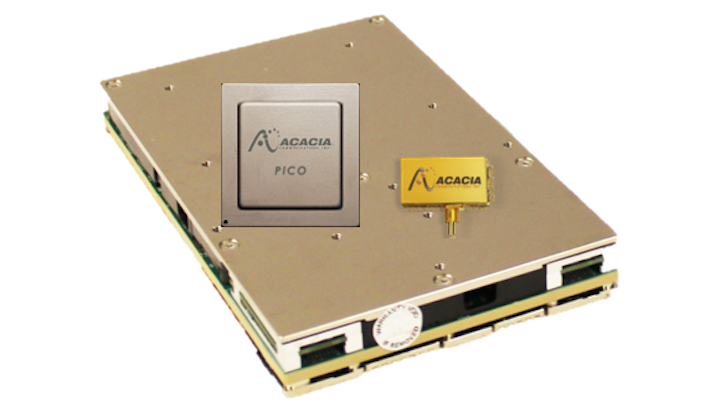 Acacia Communications
Cisco (NASDAQ: CSCO) has decided to join such competitors as Ciena, Juniper Networks, and Infinera by branching out into the optical transceiver business by acquiring Acacia Communications (NASDAQ: ACIA). The two companies agreed that the systems house will acquire Acacia for $70.00 per share in cash, or approximately $2.6 billion on a fully diluted basis, net of cash and marketable securities. The deal is expected to close in the second half of Cisco's fiscal 2020, subject to the usual closing conditions – including approval by the Chinese Government. Assuming the deal can overcome that potential obstacle, Acacia's employees will join Cisco's Optical Systems and Optics business within the networking and security business under David Goeckeler.
The sale price represents a 46% premium on the price of Acacia's shares at yesterday's closing, notes Simon Leopold of Raymond James Equity Research. (For opinions about the proposed deal and its ramifications, see "Opinions abound on Cisco's planned purchase of Acacia Communications").

In an analyst call this morning, Cisco Senior Vice President of Optical Systems and Optics Business Bill Gartner stressed that his company will continue to support both existing and future Acacia customers. This means, unlike the technology the company acquired from Lightwire, CoreOptics, and Luxtera that it kept in house, Cisco plans to continue Acacia's sales of coherent optical transceivers, coherent DSPs, and photonic integrated circuits to third parties – including Cisco competitors. Gartner said that the acquisition positions Cisco to keep pace with both expanding bandwidth demands as well as an overall move among both data center and communications service provider network operators toward pluggable optics and away from chassis-based optical transport. This includes IP over DWDM (IPoDWDM) approaches, in which optical transceivers are plugged directly into routers and switches. At a media luncheon panel at OFC 2019, Gartner had admitted that Cisco's longstanding IPoDWDM strategy hadn't met expectations, in large part because of the limits of available optical technology. However, he stated that technology advances had now caught up to customer requirements, making IPoDWDM the right technology and what was now the right time.
From an Acacia perspective, the deal brings them together with a customer (Cisco has been using Acacia's AC1200 module in some of its systems) who sees the world the same way they do. "If you look at a look at a lot of the messaging and the trends that both companies see in the industry, some of the messaging around IP over DWDM and the shift toward eliminating the transport control plane, and the architectural changes that are going on in the industry, I think there is a high degree of alignment in the vision of where we see the networking going," said Tom Williams, vice president of marketing at Acacia.
"The other aspect from Acacia's perspective is we've spent a lot of time over our 10-year history towards more levels of vertical integration. And really the best way to then take advantage of that vertical integration is through scale," he continued. "And so the model of, both the operational scale that Cisco brings to the table in terms of being a silicon-based company and they've got so much silicon scale in terms of the fab engagement and everything that they have, as well as now this model where we work into Cisco products but also continuing to engage our existing customer base and even new customers to broaden that footprint -- it's a model that to us that looks incredibly well aligned and powerful."
One challenge that Cisco and Acacia will face -- as will the other systems houses if they focus beyond their current network operator customers -- is whether Acacia will have as much success as before selling into companies that are Cisco competitors. "I think there might be some initial anxiety or uncertainty," said Williams of Acacia's current customer base. However, "I don't think many of our customers use our solutions because we're independent. I think they use our solutions because we offer technology that allows them to differentiate. I think we still plan to do that and we plan to do that to a further degree. So I think it's, on the one hand, continuing to provide them with the solutions that they need; and then the other half is a relationship thing to make them comfortable that they are getting competitive timing and all of those things."
Ron Johnson, senior director, product management at Cisco, said that his company isn't "religious" about where it gets its technology and believes there's history to suggest that other companies won't be, either. "If you go back not so many years, it was not that abnormal, right? Buying Lucent technology, buying Nortel technology -- that was pretty normal to have that relationship between an NEM [network equipment manufacturer] and some technology," he offered, referring to the days when systems houses spun out their component groups into subsidiaries (see, for example, "Lucent's Microelectronics Group to go it alone"). "I think the biggest issue is to make sure we continue to deliver the best timing, the best performance, power, and cost. If we continue to focus on delivering those four things, if [potential customers] do have to pick an alternative solution because of religion, then they're going to end up with an inferior solution."

For related articles, visit the Business Topic Center.
For more information on optical modules and suppliers, visit the Lightwave Buyer's Guide.