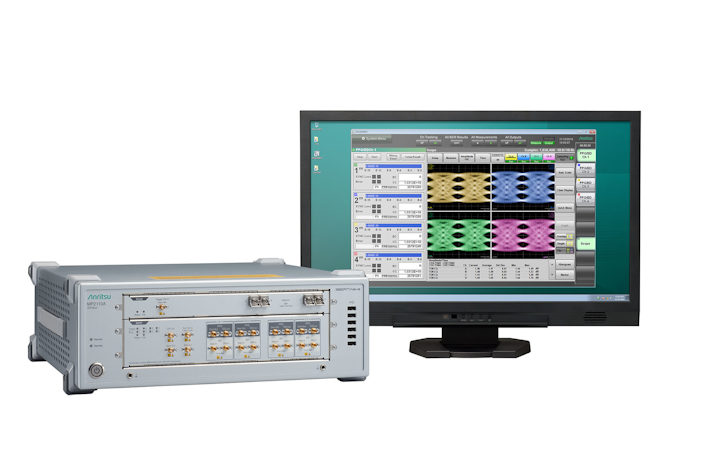 Anritsu Co.
Anritsu Co. has added a 53-Gbaud Clock Recovery Unit (CRU) option for its BERTWave MP2110A sampling oscilloscope. The CRU supports trigger clock generation from a 53-Gbaud PAM4 optical signal. The option improves the ability of the MP2110A to evaluate 100G/200G/400G PAM4 optical modules in lab and production environments, says the company.
The company notes that PAM4-enabled optical modules typically do not have a trigger signal. The availability of an integrated 53-Gbaud CRU for the BERTWave MP2110A makes the sampling oscilloscope a more cost-effective tool for PAM4 signal analysis than alternatives that require a separate trigger clock signal synchronized with the data signal, Anritsu asserts. The CRU enables technicians to use the BERTWave MP2110A to evaluate the physical layer of 25G to 400G optical transceiver modules and equipment components, such as optical cables. Modules and cables at these data rates are expected to find increasing use in data center, core/metro network, 4G/5G mobile backhaul, and 5G mobile fronthaul applications.
As its name implies, the BERTWave MP2110A operates as a 1-, 2- or 4-channel sampling oscilloscope and incorporates a BERT for measuring bit error ratio (BER). Technicians can select the 4-channel version of the MP2110A oscilloscope to measure multiple channels simultaneously, helping configure a flexible test system matching the site requirements at optimum cost, says the company (see "Anritsu adds four-channel oscilloscope option for BERTWave MP2110A"). Overall, the BERTWave MP2110A sampling oscilloscope can be used to analyze optical signals ranging from 26G NRZ to 53G PAM4 with the built-in CRU option.
For related articles, visit the Test and Measurement Topic Center.
For more information on test instruments and suppliers, visit the Lightwave Buyer's Guide.
To stay abreast of optical communications technology advances, subscribe to Lightwave's Enabling Technologies Newsletter.