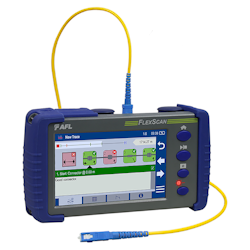 AFL has expanded its FlexScan line of field test instruments with the FlexScan FS300-325 Quad OTDR. The FS300-325 Quad OTDR adds multimode fiber test capabilities to the FlexScan portfolio, making it useful to a wider range of contract installers and network operators in the installation and maintenance of fiber-to-the-home (FTTH) and other PON infrastructures such as passive optical LANs (POLANs), as well as point-to-point networks.
Speaking June 11 at a product unveiling at AFL's new facility in Westford, MA, Michael Scholten, senior product line manager within the company's test and inspection business unit, said the FS300-325 Quad OTDR complements the new multimode capabilities with a larger, higher resolution touchscreen display. The 800x480 display also supports gesture recognition. Other new features include user-configurable Print-to-PDF record capability, longer battery life, and improved Bluetooth/WiFi communications.
The FS300-325 Quad OTDR also shares several features with earlier units:
A small, rugged package
Rapid power on, easy setup, and delivery of results in an easily understood format
SmartAuto multi-pulse testing for high resolution and long range
A LinkMap icon-based view of the tested network with clear pass/fail indications
Internal and external results storage capabilities
Bluetooth interface to the company's FOCIS connector inspectors.
Other sources at the company indicate that a backlog of orders for the new OTDR has already formed. "We chose to add the FlexScan Quad OTDR to our toolbox due to its compact and robust design, user-friendly features and easy-to-navigate touchscreen, ability to test single-mode and multimode fibers with a single unit, as well as ease of downloading diagnostic traces for desktop computer viewing and permanent storage," commented one customer, Shawn Fouts, project engineer at Petrospec Engineering Inc., via an AFL press release announcing the new instrument.
AFL supplies the FlexScan FS300-325 Quad OTDR in a variety of kits with the customer's choice of of launch cables, cleaning supplies, FOCIS Flex connector inspection probe, and OFI Optical Fiber Identifier. All kits also include a carry case as well as AFL's TRM 3.0 Test Results Manager reporting software.
For related articles, visit the Test and Measurement Topic Center.
For more information on test instruments and suppliers, visit the Lightwave Buyer's Guide.