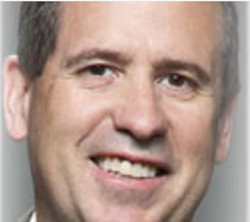 Bruce McClelland, who joined CommScope (NASDAQ: COMM) as COO from ARRIS when CommScope purchased the company this past April (see "CommScope closes ARRIS acquisition"), has had his position eliminated. He therefore is no longer with the company, says CommScope. His former duties will be split among members of CommScope's executive team; the company did not provide further details.
"In his leadership role, Bruce has made numerous contributions to ARRIS through the years," said Eddie Edwards, president and chief executive officer, CommScope. "Looking ahead, the new CommScope is well positioned and ready to shape the future of communications connectivity. We remain confident in the long-term growth potential for CommScope and our ability to help solve our customers' networking and connectivity challenges better than ever before."
McClelland became CEO of ARRIS in September 2016 after joining the company in 1999 as vice president of engineering. McClelland came to ARRIS after 11 years at Nortel Networks/Bell Northern Research (BNR) in Canada.

CommScope acquired ARRIS and Ruckus Networks for $7.4 billion in a deal announced last November (see "CommScope to buy ARRIS for $7.4 billion"). Concurrently, the Carlyle Group again took an ownership position in CommScope via a $1 billion minority equity investment that helped finance the purchase. "This is a major milestone in the evolution of these two great companies and a significant moment for our industry," said Edwards at the time of the acquisition's close. "With the completion of this exciting transaction, we are creating a new CommScope that will help shape communications connectivity and networks of the future with greater technology, solutions and employee talent. We are committed to building on our well-established track record in prior transactions of meeting or exceeding our synergy targets and generating significant value for shareholders."
For related articles, visit the Business Topic Center.
For more information on FTTx technology and suppliers, visit the Lightwave Buyer's Guide.