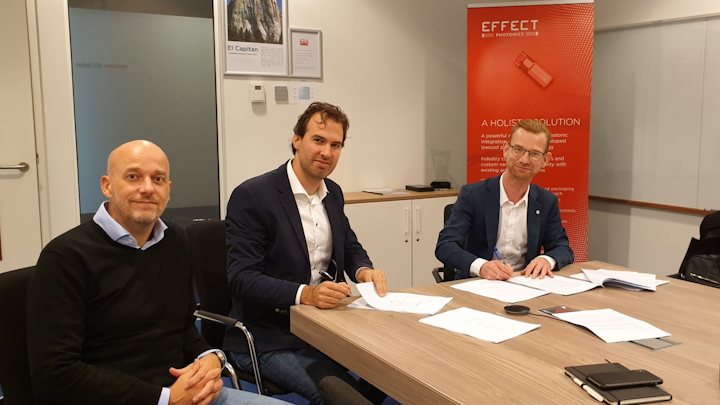 EFFECT Photonics
Photonic integrated circuit (PIC) developer EFFECT Photonics says it has received a €5 million ($5.51 million) investment from PhotonDelta. The company, which focuses on an InP-based approach to the development of DWDM optical chips, says it will use the money to accelerate product development and business expansion with an eye toward serving the 5G mobile and data center network markets.
A spin out of the Technical University of Eindhoven in the Netherlands, EFFECT Photonics unveiled its first range of products, 100-Gbps optical transceivers based on its DWDM system-on-a-chip (SoC), in 2016 (see "EFFECT Photonics offers 100G transceivers based on InP photonic integration"). It showed off a 500-Gbps PAM4 TOSA later the same year (see "EFFECT Photonics demos 500-Gbps PAM4 TOSA"). The company received Series A funding in early 2016 and a Series B round late last year (see "EFFECT Photonics closes Series B funding round").
"At EFFECT Photonics, we integrate all of the optical functions into a single chip and combine it with low-cost, non-hermetic packaging and automatic tuning," explained CTO Boudewijn Docter. "Thus DWDM – the proven solution for core and metro networks – is now simple, cost-effective, and scalable enough for 5G infrastructure rollouts around the world. This funding allows us to really push forward our next-generation products to bring even more powerful optical systems to the edges of the network."
PhotonDelta is a European public/private partnership that seeks to accelerate the development and reduce the time-to-market of new technologies and applications. This mission includes offering funding. "EFFECT Photonics is a key player within our ecosystem, a frontrunner that develops and delivers complex integrated optical products in a high-volume global market that demands 5G connectivity now. To this end, we are thrilled to fund EFFECT Photonics in developing their products and scaling up their business," said PhotonDelta CEO Ewit Roos. "Their products are supported by many other companies in the field of photonic integration services and components. Thus, the business growth of EFFECT Photonics has a profound impact as it leverages the scale of activity and innovation of the entire supply chain of integrated photonics in the Netherlands."
For related articles, visit the Business Topic Center.
For additional information on optical components and suppliers, visit the Lightwave Buyer's Guide.
To stay abreast of optical communications technology, subscribe to Lightwave's Enabling Technologies Newsletter.