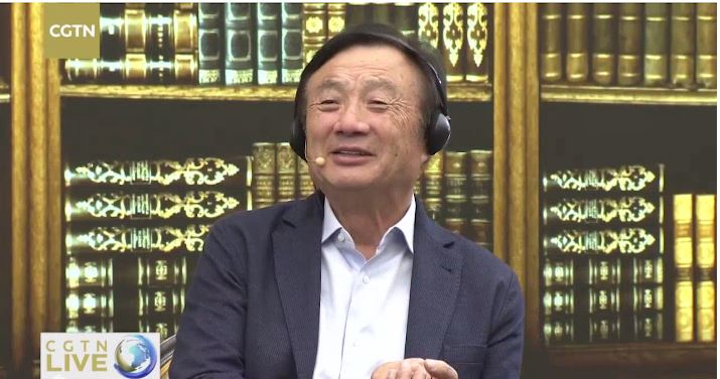 China Global Television Network video capture
Huawei will see revenue reductions of $30 billion versus forecasts for the next two years in the wake of the current U.S. technology ban as well as U.S. Government efforts to dissuade Western allies from using the company's products, predicted founder and CEO Ren Zhengfei June 16. Speaking as part of a panel discussion in the company's Shenzhen headquarters alongside technology futurist and venture capitalist George Gilder as well as Nicholas Negroponte, co-founder of the MIT Media Lab, Ren said the company would "do a lot of switchover of technical product versions" during that time.
Comparing his company to a badly damaged aircraft, Ren said the lengths to which the U.S. Government has gone to stymie Huawei was a surprise. While stating that "we believe these restrictive measures will not stop Huawei," Ren acknowledged that his company's growth momentum will slow. "So in the next two years, I think we will reduce our capacity. Our revenues will be down by about $30 billion compared to forecast. So our sales revenues this year and next will be about $100 billion," he explained. Huawei reported revenues of $105.191 billion in 2018.

"By 2020, we may regain our growth momentum," Ren continued. "In the next two years, we are going to do a lot of switchover of technical product versions. That will take time; that will take time to ramp up, and it will take some time to test whether that works. After that step, we'll be stronger."
Stating that no country can build everything itself, Ren said that he expects Huawei will continue working with U.S. technology suppliers in the future. "In the future, we will be more determined to work with U.S. companies," he stated. "We're not afraid of using U.S. components. We're not afraid of using U.S. elements. And we are open to working together with U.S. partners. But maybe there are some companies who may be very cautious in using U.S. components or content. That may be a negative thing for the U.S. economy."
The U.S. Department of Commerce, through its Bureau of Industry and Standards, placed Huawei on its Entity List, which requires U.S. companies to acquire a special license before they can sell products to the Chinese communications technology developer (see "Huawei faces U.S. technology access ban"). The move coincides with allegations that Huawei attempted to sell U.S. technology to Iran in violation of a ban on sales to that country. The U.S. is seeking the extradition of Huawei CFO Meng Wanzhou to face charges related to the case (see 'U.S. seeks to charge Huawei CFO with bank fraud"); charges have also been filed against Huawei itself. Meng is Ren's daughter. Huawei has denied all charges.

For related articles, visit the Business Topic Center.
For more information on high-speed transmission systems and suppliers, visit the Lightwave Buyer's Guide.