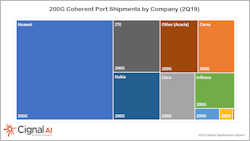 Cignal AI
Sales of compact modular optical transport platforms lagged in the second quarter of 2019, thanks to a slower than expected ramp toward 600-Gbps systems, according to Cignal AI. Operators need more time to evaluate the new technology, the market research firm states in its newly released 2Q19 "Optical Applications Report," which has led Cignal AI to reduce its forecast for compact modular optical systems sales this year. The company previously had estimated the compact modular market for 2019 at more than $1 billion (see "Sales of compact modular optical systems grow as applications increase: Cignal AI").

The forecast reduction doesn't mean Cignal AI is no longer bullish on such platforms. "The move to disaggregated networks continues, and compact modular optical platforms are a central part of those network designs," explained Scott Wilkinson, lead analyst for optical hardware at Cignal AI. "The rollout of 600-Gbps platforms is taking longer than anticipated, but NEL and Acacia-based systems from Cisco, Infinera, and others should recognize greater revenue in the third quarter and will lead a return to growth."
Cignal AI expects compact modular systems to prove particularly popular in North America and the Europe/Middle East/Africa (EMEA) region as incumbent and cloud/colocation operators further disaggregate their fiber-optic networks. The trend will pick up further steam as network operators move toward IP-over-DWDM architectures in 2022/2023. The market research firm says that Ciena has benefited the most from the compact modular system wave; the company was the only systems vendor to see its sales of such platforms grow during the second quarter of 2019.
Elsewhere in 2Q19
The second quarter "Optical Applications Report" also touches on other trends. Cignal AI states that sales of packet-OTN equipment in Asia Pacific slowed during the quarter, but Cignal analysts don't expect this trend to continue. The 2Q19 blip resulted from delayed demand among Indian incumbents – which was telling because this region is the largest market for packet-OTN gear, according to the market researchers.
Meanwhile, Cignal AI says the long-haul WDM market is growing this year thanks to interest in deploying the latest coherent technology. Metro growth also should continue through the year thanks to delays in competitive price pressure from high-baud-rate optics. Overall, nearly 500,000 coherent optical ports have shipped over the past 12 months, Cignal AI estimates, with volumes ramping "aggressively" through 2019. The five largest vendors benefit the most, as the chart above indicates.
The quarterly "Optical Applications Report" provides market share and forecasts for revenue and port shipments for optical equipment designed to meet the needs of these applications: 100G+ coherent, compact modular, and advanced packet-OTN switching hardware.
For related articles, visit the Business Topic Center.
For more information on high-speed transmission systems and suppliers, visit the Lightwave Buyer's Guide.
To stay abreast of optical communications technology, subscribe to Lightwave's Enabling Technologies Newsletter.