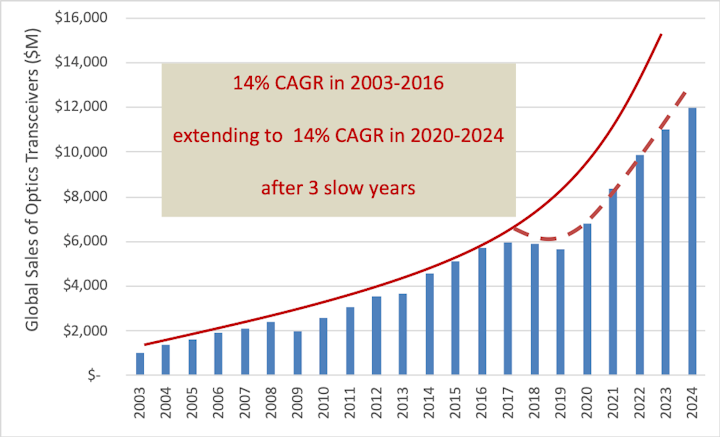 LightCounting Research
After reporting its expectations that optical transceiver sales will decline this year for the first time since 2009, led by a slump in Ethernet module revenues (see "Ethernet transceiver sales to decline 18% in 2019: LightCounting"), LightCounting is optimistic about a rapid return to growth. The market research firm states in its "October 2019 Optical Communications Market Forecast Report" that it expects to see revenues rise at a compound annual growth rate (CAGR) of 15% from 2020 through 2024.
The 15% CAGR is similar to the rate of growth the optical transceiver market experienced from 2010 to 2016. LightCounting says the forecast "may look too optimistic now" but could happen, provided two events take place:
5G rolls out as expected, which should increase demand for wireless fronthaul optics to a new record in 2020 and beyond.
Shipments of next generation Ethernet modules, including 2x200GbE, 4x100GbE, and 400GbE reach what LightCounting terms "decent volumes" next year and price declines in the Ethernet market return to their historical average of 15-20% per year. The market research firm notes that 35% in 2018 showed price declines of 35%, robbing the market of 15% in revenue growth.
LightCounting says this second point is key, as Ethernet modules will account for almost 60% of the optical transceiver market in 2024, in its estimation. The analysts note that one of the problems in 2019, which they say should see an overall revenue decline of 4%, was that hyperscale data center operators pushed volume deployments of next-generation Ethernet transceivers into 2020. Following through on the new schedule should get next year off to a good start.
The "October 2019 Optical Communications Market Forecast Report" provides a market forecast through 2024 for optical components and modules used in Ethernet, Fibre Channel, CWDM/DWDM, wireless infrastructure, FTTx, and high-performance computing (HPC) applications. Key forecast factors include an analysis of the business and infrastructure spending of the top 15 service providers and of the leading Internet companies, and sales data from 2016 to 1H19 from more than 30 transceiver vendors, including more than 20 vendors that shared their confidential sales information. The forecast is based on LightCounting's proprietary forecast model, which correlates optical transceiver sales with network traffic growth and the projected deployments of LTE and FTTx systems for broadband access.
For related articles, visit the Business Topic Center.
For more information on optical modules and suppliers, visit the Lightwave Buyer's Guide.
To stay abreast of optical communications technology advances, subscribe to Lightwave's Enabling Technologies Newsletter.