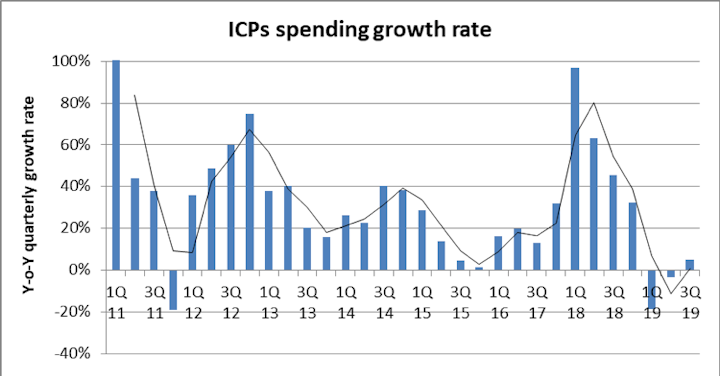 LightCounting
What's the matter, bunky? Feeling down that Ethernet optical transceivers sales showed their first year-on-year revenue declines since 2009 (see "Ethernet transceiver sales to decline 18% in 2019: LightCounting")? Concerned that data center spending hasn't looked this soft in years? Worried that service providers are too focused on 5G to spend much on optical networks? Well, LightCounting is here to turn that frown upside down with eight reasons why component suppliers should feel good about their prospects in 2020.
The market research firm indicates in the newly released edition of its Quarterly Market Update that several of the factors that led technology suppliers to take their lumps this year should resolve themselves by some point in 2020. In fact, some of the negative indicators have already begun a change in direction. So LightCounting says it has eight reasons why 2020 will be better for components suppliers than 2019:
Spending among hyperscale data center operators picked up in 3Q19 and should continue in that direction. Capex in this segment is cyclical, and LightCounting believes hyperscale operators are heading into the high-growth phase of the next cycle.
Datacom equipment revenues weren't as bad in 3Q19 than in prior quarters, and LightCounting expects "positive growth" when the current quarter completes.
In fact, LightCounting expects optical component vendors' revenues as a group will likely set a new record in 4Q19. The market researchers expect 13% growth in the last six months of 2019 versus the same period of 2018 and are predicting 19% growth in 2020.
Broad commercial deployments of 5G networks began in Q3 and Q4 of this year, sparking demand for 10G and 25G grey and WDM fronthaul transceivers. LightCounting expects 5G roll-outs will continue "for another several years at least." The company expects 2019 wireless revenues to more than double compared to 2018; such revenues will grow at greater than 20% annually through 2024, LightCountine estimates.
Sales of DWDM transceivers in the second half of this year are expected to be 11% higher year-over-year, and for the full year will be 7% higher. Data center interconnect and access network applications will drive this growth.
Network operators will continue to adopt technology that support higher transmission rates – and that come with higher prices. LightCounting cites Fibre Channel customers adopting 64-Gbps devices and service providers deploying 10G-PON instead of GPON as examples.
Meanwhile, second-half optical interconnect sales will have grown 14% by the time the year ends, LightCounting believes. This segment will see revenues improve 27% annually over the next five years, the market research firm states. Such interconnects will find use in a wide variety of applications, from interconnects between servers and top-of-rack switches to high-performance computing, core routing/optical transport, military/aerospace, and industrial.
Sensing application revenues for optical components continue to grow as well.
LightCounting's most recent Quarterly Market Update report consists of an Excel database and a ready-to-use PowerPoint slide deck, providing quarterly historical data and analysis on optical components, semiconductors, networking and datacom equipment, CSPs and ICPs. The database also contains the product-level quarterly shipment data compiled by LightCounting through its proprietary vendor survey through 2Q 2019 with estimated shipments, ASPs, and revenues for 3Q and 4Q 2019. LightCounting publishes the Quarterly Market Update in March, June, September, and December.
For related articles, visit the Business Topic Center.
For more information about optical modules and suppliers, visit the Lightwave Buyer's Guide.
To stay abreast of optical network technology advances, subscribe to Lightwave's Enabling Technologies Newsletter.