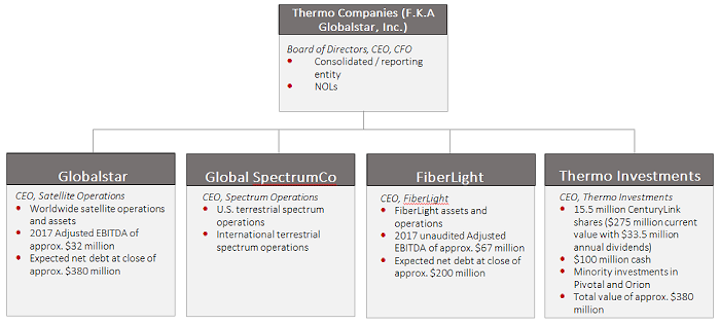 Satellite communications provider Globalstar, Inc. (NYSE American: GSAT) will merge with metro fiber-optic network services provider FiberLight LLC via an agreement with Thermo Acquisitions, Inc. Thermo Acquisitions Inc. is among the Thermo Group of companies controlled by Globalstar Executive Chairman of the Board of Directors and CEO Jay Monroe; Thermo also is the owner of FiberLight. The deal will combine the two service providers and bring 15.5 million shares of common stock of CenturyLink, Inc. (NYSE: CTL), $100 million of cash and minority investments in complementary businesses and assets of $25 million in exchange for Globalstar common stock worth approximately $1.65 billion, subject to adjustments. The parent company will be renamed Thermo Companies, Inc., and its stock will continue to trade publicly when the deal closes, a milestone expected in the third quarter of this year. The two service providers will operate as subsidiaries of Thermo Companies under their existing brands (see chart above).
FiberLight serves 40 of the top 50 U.S. bandwidth providers across approximately 14,000 route miles of fiber-optic network infrastructure. The company's fiber footprint is concentrated in Texas, the Southeast, the Mid-Atlantic, and the San Francisco Bay Area. In 2017 it enjoyed an adjusted EBITDA of approximately $67 million based on unaudited results and will have approximately $200 million of net debt at closing. It agreed to sell its South Florida network to Atlantic Broadband earlier this year (see "Atlantic Broadband acquires FiberLight's South Florida network to expand fiber-optic footprint").
Globalstar provides satellite-based voice and data communications and other services; the company says its satellite network can cover approximately 80% of the earth's surface. Globalstar reported 2017 adjusted EBITDA of approximately $32 million and has a projected pro forma net debt outstanding of approximately $380 million at closing.
Monroe and Thermo has an extensive history with both companies, having invested in Xspedius, the company that eventually became FiberLight, in 2002. Thermo acquired Globalstar in 2004.
"This transaction brings together strategic assets that are critical to the complex needs of next-generation networks, allowing service providers to deliver the sophisticated services their customers increasingly expect," said Monroe. "The combined entity is uniquely positioned to meet a broad range of customer requirements, from low latency and high capacity networks, to consistent connectivity across large geographical areas. Long-term shareholders should benefit significantly from the combined entity's strong balance sheet and recurring revenue from the portfolio of satellites, spectrum, fiber infrastructure and other related assets."
In addition to the assets of the two companies and the CenturyLink stock, Thermo also will contribute $25 million of other assets, including minority investments in Pivotal Commware and Orion Labs and Globalstar's new headquarters building, all contributed at cost. The pro forma cash flow of the combined company will come from five principal sources, including Globalstar's satellite operations, leasing or other monetization revenue from global spectrum, FiberLight's operations, dividend income, and returns from other Thermo Investments. Thermo Investments is expected to have $100 million of investable cash at closing.
Additional details of the financial underpinnings of the deal are available on Globalstar's website.
For related articles, visit the Business Topic Center.
For more information on high-speed transmission systems and suppliers, visit the Lightwave Buyer's Guide.