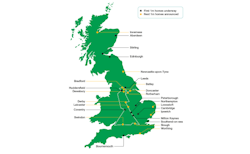 CityFibre
UK open access fiber to the premises (FTTP) network operator CityFibre says it has added 14 towns and cities to its FTTP deployment list. The new markets bring to 26 the number of locations where CityFibre plans to bring gigabit-capable fiber broadband networks as part of a £2.5 billion ($3.12 billion) initiative (see "CityFibre taps Prysmian as fiber-optic cable supplier for Gigabit City FTTP roll-out").
Once completed, the FTTP roll-out to the 26 markets will bring CityFibre's network within reach of more than 2 million homes. The company plans to pass at least 5 million homes when its full plans have been enacted.
The new cities include:
Batley
Bradford
Derby
Dewsbury
Doncaster
Inverness
Ipswich
Leicester
Lowestoft
Newcastle-upon-Tyne
Rotherham
Slough
Swindon
Worthing.
In addition to providing direct gigabit fiber broadband connections, CityFibre says the new infrastructure also will support 5G small cell densification as well as smart city initiatives. The company estimates the financial benefits of the FTTP infrastructure could exceed £16.3 billion ($20.34 billion) and create more than 115,000 indirect jobs. More than 3,250 construction jobs will be created via the 26-city deployment, CityFibre estimates.
"CityFibre's sole purpose is to deliver the future-proof digital infrastructure the UK deserves," commented company CEO Greg Mesch. "With a new Prime Minister set to increase government's ambitions for the pace of full fiber rollout, we are delighted to welcome another 14 towns and cities to our Gigabit City Club. These Gigabit Cities will not only gain new full fiber networks that will spark their digital transformation, but also unleash the benefits that only competitive infrastructure investment can bring."
CityFibre's previous 12 targets include:
Aberdeen
Edinburgh
Coventry
Stirling
Huddersfield
Leeds
Cambridge
Southend
Bournemouth
Northampton.
For related articles, visit the FTTx Topic Center.
For more information on FTTx technology and suppliers, visit the Lightwave Buyer's Guide.