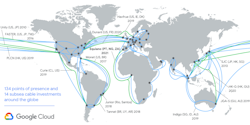 Google Cloud
Google has announced plans to build Equiano, a submarine cable system that will run between Lisbon, Portugal, and Cape Town, South Africa. Alcatel-Lucent Submarine Networks will build the submarine network, a process that Google expects to complete in 2021.
The submarine cable's design will feature nine branching units from which spurs can be added. According to a map Google provided (see below), there appears to be plans to leverage one of these branches to land a cable spur in Lagos, Nigeria. The company did not provide Equiano's design capacity but noted that it will leverage space-division multiplexing (SDM) to increase capacity. Google is using SDM on its Dunant submarine cable system as well (see "Google, SubCom, to deploy space-division multiplexing on Dunant submarine cable"). Google also asserts that Equiano will be the first undersea network to use optical switching at the fiber-pair level, versus the more traditional wavelength-level switching. The company says that switching at the fiber-pair level will significantly simplify capacity allocation.
Google says it looks forward to working with "licensed partners" to leverage the branching units in Equiano's design.Google

Equiano, named after Olaudah Equiano, a Nigerian-born writer and abolitionist, is the third submarine network that Google has launched on its own (Dunant and Curie are the others) and the 14th submarine cable system in which it has invested overall. The company says it has invested $47 billion on its global network over the last three years.
For related articles, visit the Network Design Topic Center.
For more information on high-speed transmission systems and suppliers, visit the Lightwave Buyer's Guide.