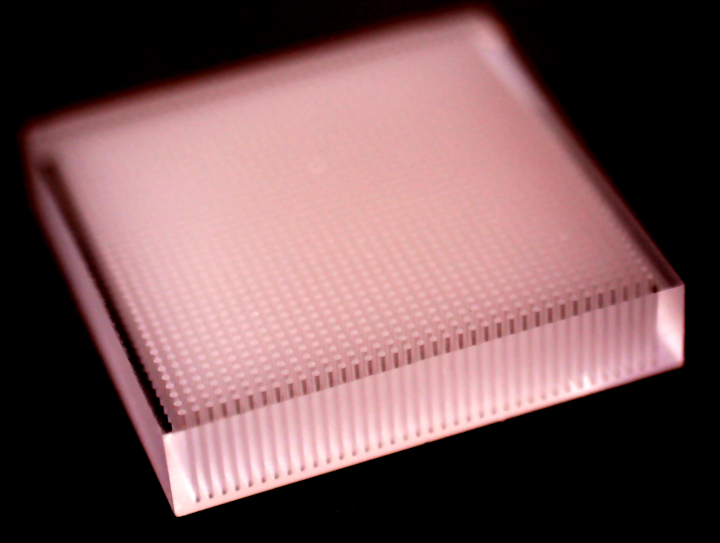 Optoscribe
Optoscribe Ltd. has unveiled the OptoArray line of fiber alignment structures. The company asserts the fiber alignment arrays reduce optical circuit loss through the alignment precision they enable.
The company notes that the requirement for precise fiber alignment has become increasingly important and complex as optical fiber densities grow. This trend is seen in applications such as multi-fiber connectors, arrays for interfacing to such optical switching systems as ROADMs, and interfacing to other free-space optical systems.

Optoscribe says the OptoArray line leverages the company's high-speed laser-based manufacturing process, which enables full 3D flexibility in hole patterning and high-precision, highly controllable microstructures in glass. The process enables the hole entrances in the OptoArray products to be shaped in a funnel or conical taper to ease insertion of the fibers. Holes can also be formed at arbitrary angles to the surface, such as the 8 degrees typically used for minimizing back-reflections.

"With the data communications market demanding ever increased bandwidth there is a greater need for dense fiber optical connections," pointed out Nick Psaila, CEO of Optoscribe. "Many of these high-density connections require the use of precise, tightly toleranced fiber alignment structures to position the optical ports accurately; therefore, I am delighted to introduce our new range of OptoArray solutions to help solve some of these challenges."
For related articles, visit the Optical Technologies Topic Center.
For more information on optical components and suppliers, visit the Lightwave Buyer's Guide.
To stay abreast of optical communications technology advances, subscribe to Lightwave's Enabling Technologies Newsletter.