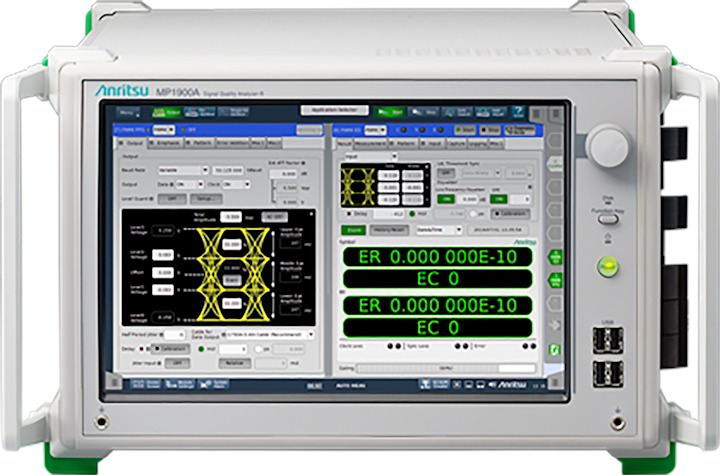 Anritsu Co.
Anritsu Co. has released the MU196040B PAM4 error detector (ED) module for the Signal Quality Analyzer-R MP1900A series that enables 116-Gbps bit error rate tests. The module, used in combination with the MP1900A series PAM4 pattern generator (see "Anritsu enhances MP1900A BER test capabilities for 400GbE transceiver, DSP verification"), enables engineers to accurately measure bit error rates of 400 Gigabit Ethernet (GbE) and 800GbE communications equipment and devices, Anritsu asserts.
PAM4 has become the consensus approach to supporting 100GbE transmission, particularly as a building block toward 400GbE and eventual 800GbE designs. Anritsu notes that the use of PAM4 modulation creates a requirement for higher input sensitivity than when using NRZ as well as the integration of such functions as clock recovery and equalization to correct loss effects. The new ED features built-in clock recovery and an equalizer to enable a PAM4 BER measuring instrument with what the company asserts is market-leading performance.
With a built-in high-bandwidth and high-input-sensitivity Rx circuit, the ED MU196040B module supports error-free measurement of 100-Gbps PAM4 input signals even at an input amplitude of 36 mV typical, Anritsu states. The built-in clock-recovery and equalizer functions support highly reproducible jitter stress and ISI stress tests of transceiver input circuits using an easily configured equipment setup, the company adds.
For related articles, visit the Test and Measurement Topic Center.
For more information on test instruments and suppliers, visit the Lightwave Buyer's Guide.
To stay abreast of lab/production test advances, subscribe to Lightwave's Enabling Technologies Newsletter.