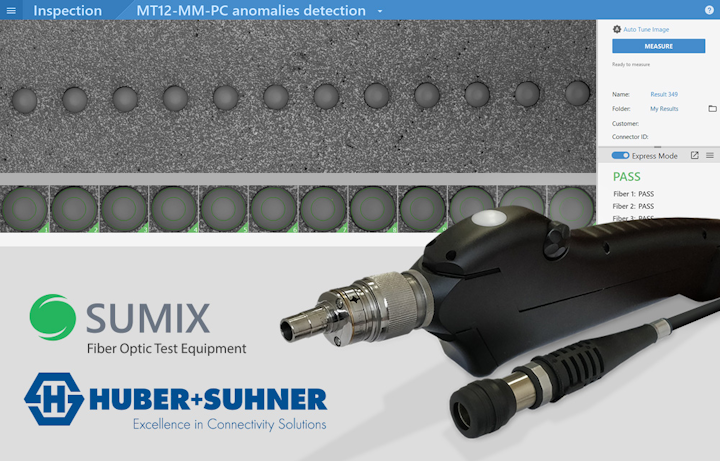 Sumix Corp. has extended the application range of its Sumix Manta-W+ fiber microscope with the addition of adapter tips for HUBER+SUHNER's trademarked ODC and Q-ODC fiber connectors. The fiber-optic connectors target outdoor harsh environments.
The adapters cover both plug and socket (male and female) sides of ODC-2, ODC-4, Q-ODC-2, and Q-ODC-12 type connectors. The fiber-optic connectors are waterproof, dust proof, corrosion resistant, and RoHs compliant to enable reliable connections in harsh environments, says Sumix. The inspection tips are compatible with Manta-W+ and Manta+ microscope probes. HUBER+SUHNER has adopted the Sumix test units for its laboratory and field inspection needs. The adapter tips are also available for technicians deploying networks in which the new HUBER+SUHNER connectors are used.
"The entire ferrule and the individual fibers are visible at a glance, which makes our work much easier," commented Jonas Hanimann, process engineer at HUBER+SUHNER. "Manta-W+ sets the focus automatically, hence this solution saves us a lot of time and increases our throughput."
The Manta-W+, designed for multi-fiber testing, earned a 4.0 rating in the 2019 Lightwave Innovation Reviews. The HUBER+SUHNER adapters are part of an ongoing effort to increase the fiber microscope's application range. Sumix introduced an adapter for 3M Expanded Beam Optical Connector earlier this year (see "Sumix Manta-W+ inspection scope accommodates 3M Expanded Beam Optical Connector").
For related articles, visit the Test and Measurement Topic Center.
For more information on fiber inspection equipment and suppliers, visit the Lightwave Buyer's Guide.