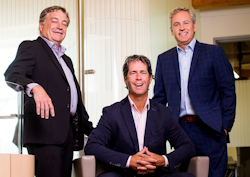 CNW Group/TeraXion Inc.
Optical component supplier TeraXion says it has lined up new funding sources as its founders position for new roles. The company, which produces lasers and associated components, dispersion compensation technology, and optical sensing and RF components, says it has sold a minority stake to BDC Capital's Growth Equity division. BDC's Growth and Transition Capital division, which has been a backer of TeraXion since 2016, also is working with CIBC on bank refinancing. Meanwhile, co-founder Alain-Jacques Simard, currently president and CEO, will become executive chairman of the board of directors, while fellow co-founder Richard Kirouac, CFO, will retire but continue to sit on the board.
Ghislain Lafrance, TeraXion's vice-president of commercialization and technology, will step up to CEO in Simard's stead.
"This new partner agreement with BDC Capital and CIBC will reinvigorate the resources and energy that TeraXion needs to leverage in order to seize the opportunities before it," said Lafrance. "I am incredibly proud to be taking the reins for a company I've contributed to for nearly 20 years."
TeraXion develops products that incorporate fiber Bragg gratings, low noise lasers, and integrated photonics for such industries as light and heavy manufacturing, communications, medical equipment, aerospace, and defense. In the communications realm, TeraXion is probably best known for its dispersion compensation technology (see, for example, "TeraXion launches ClearSpectrum-DCML low-latency dispersion compensator" and "MultiPhy, TeraXion tackle 100G dispersion compensation"). It expanded into other optical component technologies, an effort boosted by its 2013 acquisition of COGO Optronics Canadian Subsidiary, which specialized in modulators (see "Teraxion acquires modulator expertise from COGO Optronics"). TeraXion also invested in the development of silicon photonics technology; the company sold that unit, as well as its InP business, to Ciena in 2016 (see "Ciena buys TeraXion's indium phosphide, silicon photonics assets").
Not surprisingly, TeraXion's financial backers are optimistic the company is in a good spot. "TeraXion is an innovative company in a very promising sector that does the majority of its business abroad, where it has an excellent reputation. Its potential for growth remains high. This investment is right in line with our mandate to support successions of leading Canadian technology companies, and TeraXion's succession has been exceptionally well planned."
"We're confident that the current management team will continue to drive the growth of this global player in the optics industry, and CIBC is enthusiastic about its plans to support TeraXion in its goals and ambitions," added David Bouchard, director and team lead, CIBC Commercial Banking.
For related articles, visit the Business Topic Center.
For more information on optical components and suppliers, visit the Lightwave Buyer's Guide.
To stay up to date on components and other optical communications technologies, subscriber to Lightwave's Enabling Technologies Newsletter.