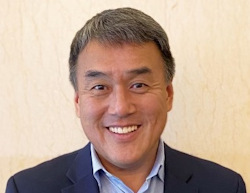 Business Wire
Frontier Communications Corp. (NASDAQ: FTR) has named former DISH Network executive Bernard L. "Bernie" Han as the service provider's new president and CEO, as well as member of the board. Han immediately succeeds Daniel McCarthy, who has resigned from the same positions against a backdrop of speculation that Frontier may be on the verge of bankruptcy.
Han has been advising the Finance Committee of Frontier's board since the end of October. His more than 30 years of employment experience includes 11 years at DISH Network, where he served as CFO, COO, and as executive vice president, strategic planning.
"We are excited to announce the appointment of Bernie Han as Frontier's new CEO," commented Pamela D. A. Reeve, independent chairman of Frontier's Board of Directors. "Bernie is a proven industry leader who has a broad-based background with a long track record of developing organizational talent and enhancing financial and operational performance while driving and navigating strategic shifts in the industry. In addition, he has a passion for serving customers with new and innovative solutions that meet their evolving needs with a focus on increasing value for all stakeholders. He brings a disciplined approach to operations management, having led turnaround initiatives at DISH Network that increased profitability, enhanced customer experiences and reduced churn rate.
"The Finance Committee and entire board are confident that, as CEO, Bernie will further Frontier's efforts to drive operational improvements in our business while continuing to evaluate the company's capital structure," Reeve continued.
Frontier reported on November 5 a net loss of $345 million – including a goodwill impairment of $276 million and a loss of $30 million on anticipated sale of operations in Washington, Oregon, Idaho, and Montana (see "Frontier to sell northwestern operations to WaveDivision Capital"), for the fiscal third quarter of 2019. This comes off a net loss of $5.32 billion, including a goodwill impairment of $5.45 billion, for the second quarter of 2019 and a net loss of $643 million for 2018. The company is working to reduce its debt, although some observers believe it may have to declare bankruptcy (see this article from Bloomberg, for example).
For related articles, visit the Business Topic Center.
For more information on FTTx technology and suppliers, visit the Lightwave Buyer's Guide.
To stay abreast of service provider networks, subscribe to Lightwave's Service Providers Newsletter.