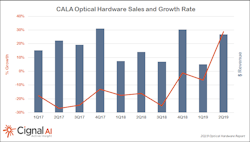 Cignal AI
Network operators worldwide combined to push sales of optical network hardware to year-over-year gains in every geographical segment during the second quarter of 2019, according to Cignal AI. Even sales of SONET/SDH gear were comparatively healthy, the market research firm states in its most recent "Optical Hardware Report."
The pan-regional growth would not have been possible without a turnaround in the Caribbean/Latin America (CALA) market, which showed year-on-year growth of 30%. The spike in revenues reversed two years of year-on-year quarterly revenue declines, according to Cignal AI Lead Analyst Scott Wilkinson (see chart above). Wilkinson notes in the report that growth in the North American market was a near thing, with heavy spending on submarine line termination equipment (SLTE) rescuing what would otherwise have been a down quarter. For example, North America was the only region in the world where metro WDM revenues decreased, the market research firm noted.
Other technology winners included long-haul WDM, which showed bounce everywhere except in Japan. New coherent transmission technology and compact modular hardware led to the uptick, as Cignal AI had previously forecasted (see "Sales of compact modular optical systems grow as applications increase: Cignal AI"). According to the report, shipments of coherent optical ports are on pace to reach nearly a million 100G-equivalent ports this year, which would equate to a 40% increase in bandwidth versus 2018. SONET/SDN gear also had a good three months in 2Q19, thanks to strength in APAC and Europe/Middle East/Africa (EMEA). Cignal AI notes that these purchases support existing networks rather than the creation of new SONET/SDH infrastructures.
The market research firm notes a significant spike in year-on-year revenues in China, but cautions that the bounty came more as a result of a slow quarter last year due to ZTE's problems with the U.S. government (see "ZTE: Commerce ban could 'severely impact the survival and development' of company"). Huawei, of course, is in similar hot water this year. Cignal AI says that the Chinese communications technology house again enjoyed its typically strong second quarter. "Huawei managed to retain market share in what is typically its strongest quarter of the year," said Wilkinson via a Cignal AI press release. "Despite the export ban of many optical components and the reports of competitive wins against Huawei in EMEA and APAC, Huawei market share remained steady."
Cignal AI's quarterly "Optical Hardware Report" covers optical equipment revenue across all regions and equipment types. The analysis is based on financial results, independent research, and input from individual equipment companies. Forecasts are based on overall spending trends for equipment types within each region. Those equipment types include metro WDM, long-haul WDM, and submarine (SLTE) equipment, for which Cignal AI reports port shipments by speed.
For related articles, visit the Business Topic Center.
For more information on high-speed transmission systems and suppliers, visit the Lightwave Buyer's Guide.