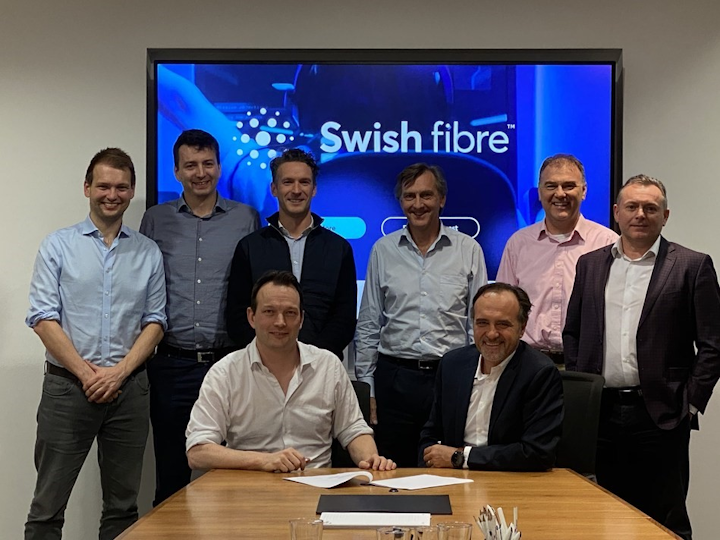 PRNewsfoto/Swish Fibre
UK alternative fiber to the premises (FTTP) based broadband services provider Swish Fibre Ltd. has announced that it has agreed to be purchased by Fern Trading Ltd. for an undisclosed sum. Swish Fibre says the link up with Fern Trading will enable the company to launch a more than £250 million FTTP infrastructure deployment based on 10-Gbps technology.
The London-based company says it plans to pass 250,000 premises in the Home Counties (the counties that surround London) with its FTTP infrastructure. The first deployments will focus on markets that are in what Swish terms "commutable distance from London." Swish Fibre was founded in 2018 and has attained Openreach Communications Provider status and obtained Code Powers earlier this year. The build will leverage Openreach PIA ducts and poles as well as a newly built ducted fiber broadband network. Swish Fibre plans to begin construction in the first quarter of 2020. It says it will announce further deployment details in the near future.
"We are delighted that Fern, advised by Octopus, has agreed to acquire Swish Fibre and to support our agreed roll-out plans to bring fiber-optic broadband to hundreds of thousands of new customers across the Home Counties," stated Brice Yharrassarry, CEO of Swish Fibre.
"Swish Fibre has exciting plans to invest into the infrastructure of local economies in the UK and provide a substantial upgrade to the digital connectivity of communities," added Paul Latham, CEO of Fern. "It's a perfect match for Fern, which has a track record of backing experienced management teams to turn such ambitions into reality and provide long term stable returns for its investors."
Swish is one of several fiber-based alternative service and infrastructure providers in the UK to fund FTTP deployments by selling the company (see, for example, "Goldman Sachs, Antin consortium finalizes acquisition of CityFibre" and "KKR buys majority stake in UK FTTP network operator Hyperoptic"). The rise of such providers is one reason BT infrastructure subsidiary Openreach has embarked on a FTTP infrastructure program of its own (see "Openreach adds 36 locations to FTTP build list").
For related articles, visit the Business Topic Center.
For more information on FTTx technology and suppliers, visit the Lightwave Buyer's Guide.
To stay abreast of fiber network deployments, subscribe to Lightwave's Service Providers and Datacom/Data Center newsletters.