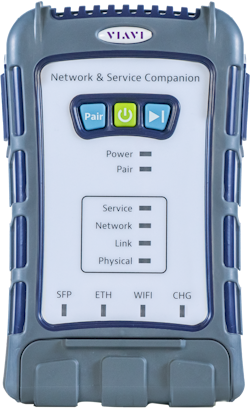 VIAVI Solutions Inc. (NASDAQ: VIAV) now offers the NSC-100, the first in the Network & Service Companion (NSC) line of field test instruments. The NSC-100 integrates passive optical network (PON), Ethernet, and Wi-Fi test capabilities as well as the VIAVI OneCheck automated test process for frontline field technicians.
The company describes the NSC-100 as an intuitive test instrument that field technicians and contractors of any skill level can use in their residential, small business, and enterprise Ethernet network deployment and maintenance activities for networks operator at up to 10 Gbps. The instrument enables network installers and maintainers to validate network performance and service distribution quickly, comprehensively, and correctly, says VIAVI. The NSC-100 can support a wide range of deployment and service applications, including PON for fiber to the home and 5G fronthaul, midhaul, and backhaul; DOCSIS 3.1 hybrid fiber/coax networks; xDSL and Gfast; and enterprise, data center, and metro Ethernet.
The NSC-100 features a screenless design and can be operated directly via the VIAVI Mobile Tech app or paired with other VIAVI test instruments such as the OneExpert CATV and DSL analysis platforms; SmartOTDR, T-BERD/MTS-2000 and 4000 fiber testers; T-BERD/MTS-5800 Metro network tester; and the NITRO vNet Fusion virtual test and activation platform. The VIAVI OneCheck automated test process helps ensure the technician completes all necessary tests while on site. The NSC-100 also can be supported by StrataSync, VIAVI's hosted, cloud-based platform that provides asset, configuration, and test data management for VIAVI instruments.
"Efficiency is the watchword of the Network & Service Companion," said Kevin Oliver, vice president and general manager, converged instruments and virtual test, at VIAVI. "We designed it so a technician can pinpoint service performance issues in under a minute, and close out tickets on the first visit, optimizing time, expense, and subscriber satisfaction, even as networks and services get ever more complex."
VIAVI will display the NSC-100 and other test instruments at ECOC, September 23-25, in Dublin, Ireland, Stand 66; and SCTE Cable-Tec Expo, September 30-October 1, in New Orleans, LA, Booth 1501.
For related articles, visit the Test and Measurement Topic Center.
For more information on test instruments and suppliers, visit the Lightwave Buyer's Guide.
To stay up to date on field test instruments, subscribe to Lightwave's Service Provider Newsletter.